Overview
As of Spring 2016, UWF will automatically award associate degrees to bachelor's degree seeking students who have completed all requirements for the Associate of Arts degree. This form is used by students who wish to opt out of being automatically awarded their Associate of Arts Degree at The University of West Florida. 
Instructions
Students will be able to access the Associate Degree Auto-Award Opt-Out Form via MyUWF which will require logging in with your Argonet ID and password. Students will be able to complete and submit the form online. The Registrar's Office staff will process the form.
Step 1
Log into MyUWF and search for the opt-out form - type keywords, "Associate Degree," "opt-out," or "AA degree."    
Step 2
The student's information will prefill at the top of the form. The student will need to review the Opt-Out Statement and check the box indicating their approval.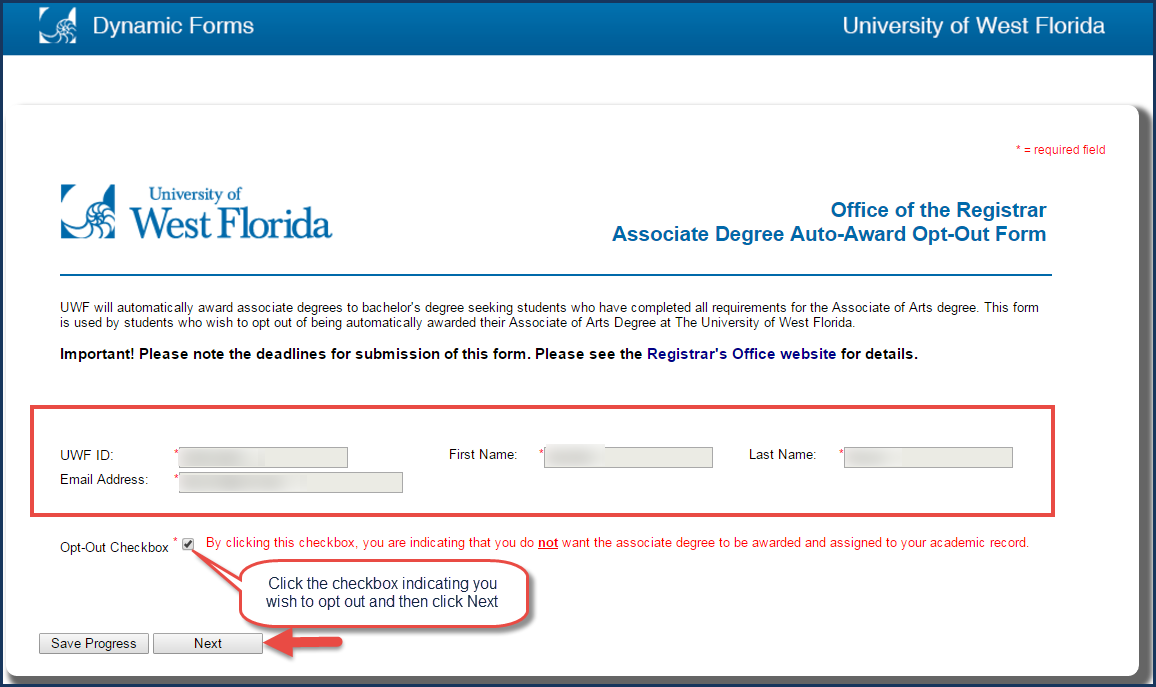 Step 3
Sign and submit the form online.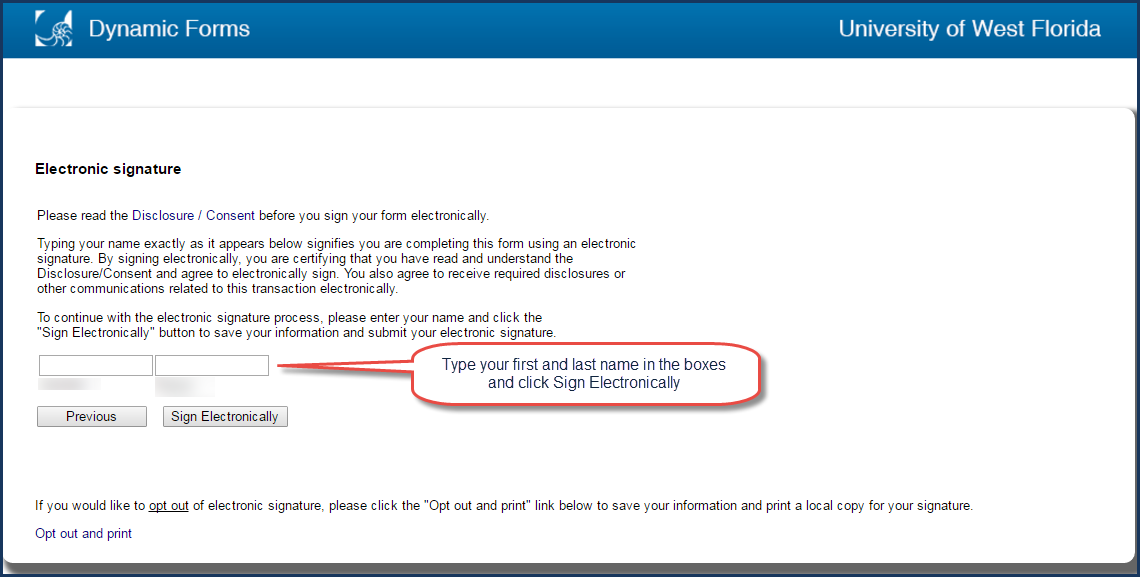 Step 4
You will see the following screen after submission of your form online. 
You will receive an email confirmation when your form has been processed by the Registrar's Office. 
FAQs
Use an expand section for each FAQ that you want to include. Copy and paste the expand section to create a new question. Make sure to edit the title of the expand section. Please remove this section if there are no FAQs.
Yes, your Associate of Arts degree diploma will be mailed to your permanent address as it appears in your Contact and privacy Info app in MyUWF. Please check your address for accuracy.
No, you will not have to reapply for admission. You will continue to enroll as you work toward your Bachelor's degree.
No, you will remain in your declared Bachelor's degree program.
No. As long as you are continuously enrolled at least half-time and working on your Bachelor's degree, earning your Associate of Arts degree will not change your loan repayment schedule. However, because loan counseling is required upon completion of any degree, you are required to complete exit loan counseling at www.studentloans.gov.
No. The Associate of Arts degrees are not recognized in UWF commencement ceremonies.
Yes, courses taken as part of a completed Associate of Arts degree may be repeated under course Repeated Course policy.
You can opt-out of receiving your Associate of Arts degree by completing the Opt-Out Form instructions above.
Please email the Registrar's Office Graduation Team with any questions or concerns.