Getting Started
Logging In the First Time
When you go to https://pns.maps.arcgis.com, you should be prompted to sign in. If not, look for a sign-in button.
Click the Blue Button with the text "New Users Only - UWF ArgoNet Login"
If you don't have a blue button, under Enterprise Login, type 'pns' for your organizations URL.
If you are already logged in to another UWF system, like Canvas or MyUWF, the login should be automatic. If you are not, you should be prompted to enter your UWF username and password.
It may take a few moments for your account to be created. Do not navigate away from the screen or refresh.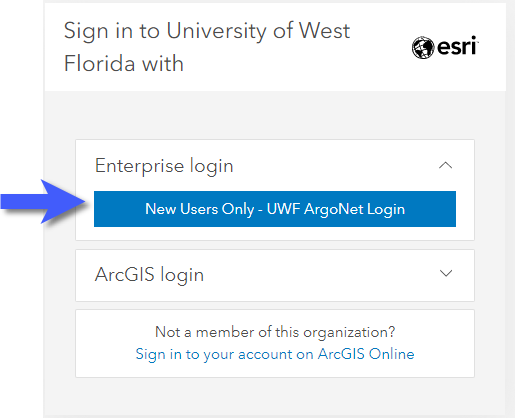 If you receive an error, make sure that you do not have an existing ArcGIS account. If this is your first time logging into ArcGIS Online and you receive an error, please let your instructor know.
Logging In After the First Time
If you are ever prompted to sign in to the Organization Account, click that same 'New User' blue button and you will be logged in.
---