Skip to end of metadata
Go to start of metadata
Overview
The University has partnered with Follett Higher Education Group to operate the UWF Bookstore and a satellite store at Fort Walton Beach. Contract management and oversight is the responsibility of Business & Auxiliary Services. Follett has been in business for 140 years and manages more than 930 bookstores nationwide.
The official UWF Bookstore stocks the largest selection of textbooks, course materials, and Argonaut gear in Pensacola. The primary purpose of the store is to ensure students have the required and/or recommended course materials as specified by their professor. Course materials may be purchased new or used, or rented for the semester in hard copy or digital, in most cases. Order online or in person. UWF's online registration system connects directly to the UWF Bookstore, allowing students to purchase or rent textbooks online immediately after registering for classes. The order can be shipped to the student's address or held at the store for pick up.
Instructions
Step 1
Log in to elearning.uwf.edu. 
Step 2
Click on My Tools, then select Follett Discover.
Step 3
You will now see your courses and the course materials that are recommended or required for those courses. Click on View All Materials (circled in red) to see additional information about the course materials. Or click on Purchase (circled in yellow) to go directly to the purchase screens.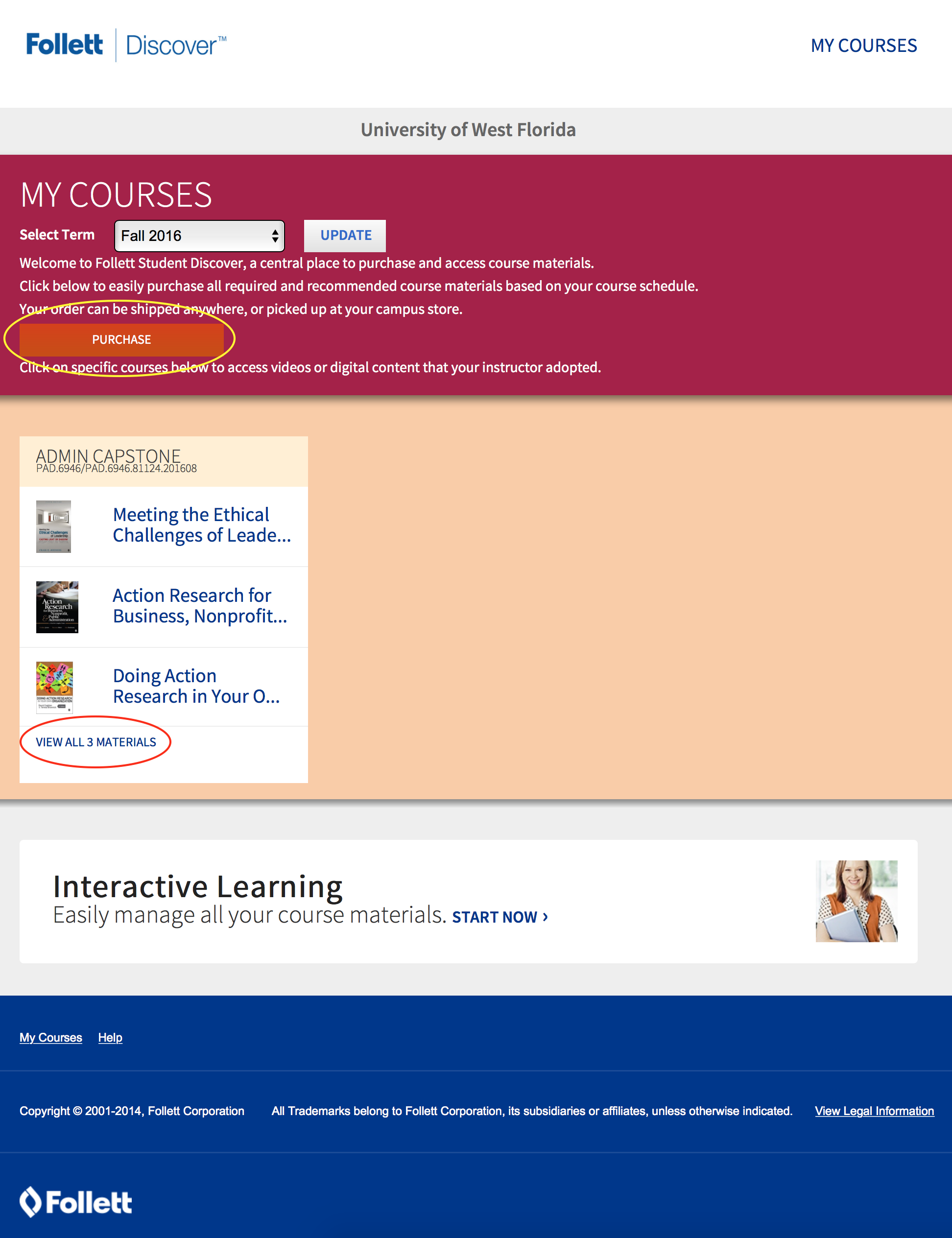 This is screen you will see if you click on View All Materials. You may then click the Purchase button under any other the items to go to the Purchase screen.
Step 4
This is the purchase screen. You may click on Open All or the + to open individual items.
If you click Open All, you will then see this screen showing all purchase and/or rental options.
Step 5
Make your selections of which course materials you would like to purchase and/or rent (see red circles). 
Step 6
Add each to cart (see green circles).
Step 7
Select Another Course OR Go to Cart (see blue circles).
Step 8
The final step will be to Go to Cart. This will take you through the payment process and allow you to choose where your materials will be shipped or if you will be picking them up in the UWF Bookstore on the Pensacola Main Campus.
FAQs
What are some of the features and benefits of using the official UWF Bookstore?
As the official bookstore, we have the right text at the right time and you can be confident it is what the instructor requested. In addition, when you shop at the UWF Bookstore, you are giving back to the University because Follett sponsors book scholarships for students.
How much should I expect to spend on textbooks?
Expect to pay about $375-450 for course books each semester. The average textbook price is $75-80.
Tell me about new vs. used vs. digital course materials.
When are textbooks available?
Textbooks are generally available 3 to 4 weeks prior to the first day of class. Shop early for the best selection.
BryteWave is a digital textbook platform. You can easily search an entire text for specific information in a matter of seconds, take notes directly in the text, bookmark important pages, and highlight information for easy recall.
Can I test BryteWave before purchasing a digital textbook?  Yes. In most cases BryteWave offers a three day 'Try Before You Buy' option (dependent on if the publisher allows). 
Can I copy and paste or print digital textbook content from a purchased digital textbook?  Yes. But, publishers limit the amount of content you can export or print. The average limit is 30% of the book. 
How long do I have access to a BryteWave digital textbook?  With BryteWave, there are two purchase models – rental and ownership.
• A rented digital textbook allows you to use the book for 180 days after activation. Rental books cannot be converted to purchase but you can always rent the book again and your notes and highlights remain available.
• An ownership digital textbook gives you ownership of this title within the BryteWave reader and will not expire.
See a Tutorial of BryteWave on YouTube.
Find out more on the BryteWave website.
| | |
| --- | --- |
| Process Owner | |
| Status | |
| Last Reviewed | |
| Last Edited | |
| Notes | |
| Template | BPL Process Template v.1.1.1 |