Skip to end of metadata
Go to start of metadata
Overview
The Contact and Privacy Info app has a Wizard mode that is used to guide students through a process of updating their information.
Instructions
The wizard mode of the contact and privacy info app is a special mode that guides students through a process of updating and verifying their information.  There are also extra screens and forms available in this wizard that are not usually available in this app.
As students progress through the wizard, they will see a bar at the top letting them know what step they are on.  If the page requires their attention, like checking the box at the bottom, the "action required" label will appear.  They will also be prevented from progressing past this tab until all steps on this page are completed.  The mobile version of these pages does not have the progress bar, but will indicate what step the student is on and will also display the action required label. Note: all other screenshots in this guide also have an "employee addresses" tab, which will appear if the student is also an employee.
At the bottom of the page, students will have to check a box at the bottom to verify that the information is correct.  This ensures that they have viewed the entire contents of the page.

Student Addresses
Students will first be asked to validate their existing local and permanent addresses.  They will have to check a box at the bottom to verify that the information is correct.  They can also make changes and click the save button, just like normal.
Emergency Contact
The emergency contact section allows students to update their emergency contact information.
Text Notifications
This section allows students to sign up for various text message notifications.  If they are not enrolled for RAVE emergency alerts they will be required to make a decision to sign up or opt out.  Once they have signed up for emergency notifications, they will be shown the primary number they registered with, and then directed to the RAVE website for further changes.  They also are given an opportunity to sign up for enrollment notifications.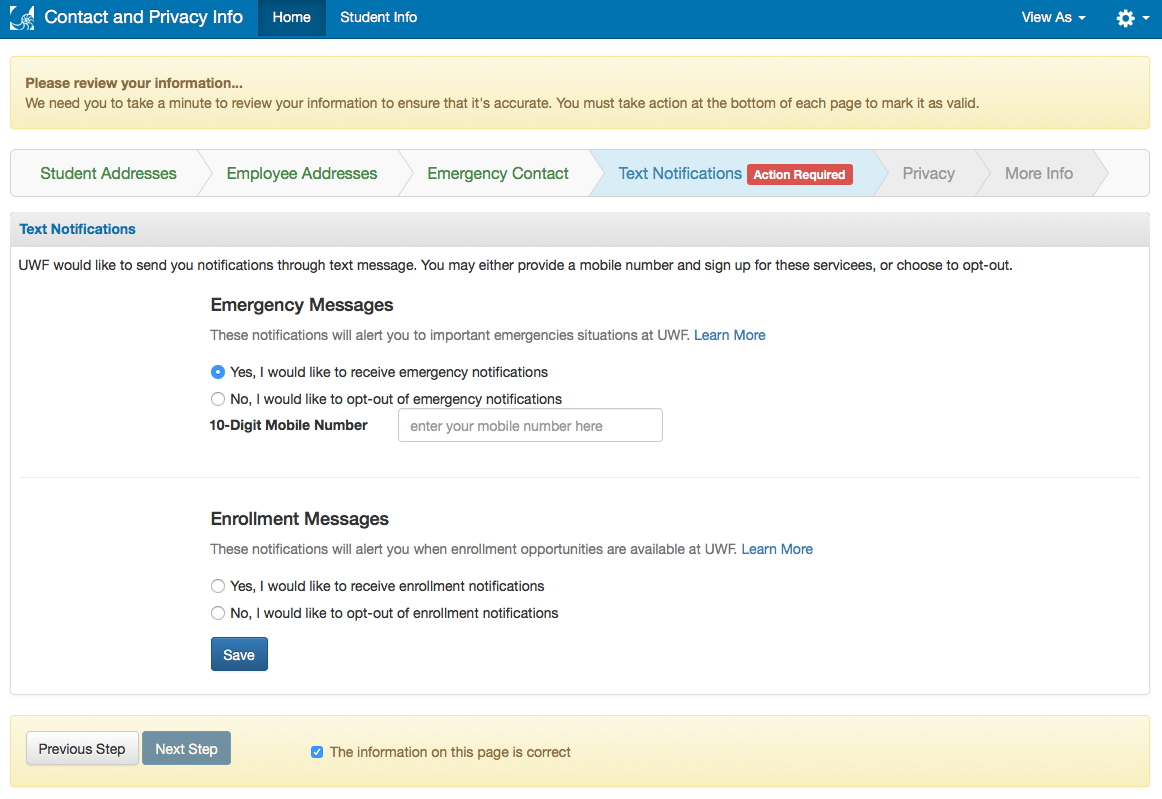 A brief description of each notification type is shown, but a user can click "Learn More" to read about each one.

Privacy
Students are shown their directory information and are given a chance to request privacy.  There is also a section that lets them specify who they would like to release their information to.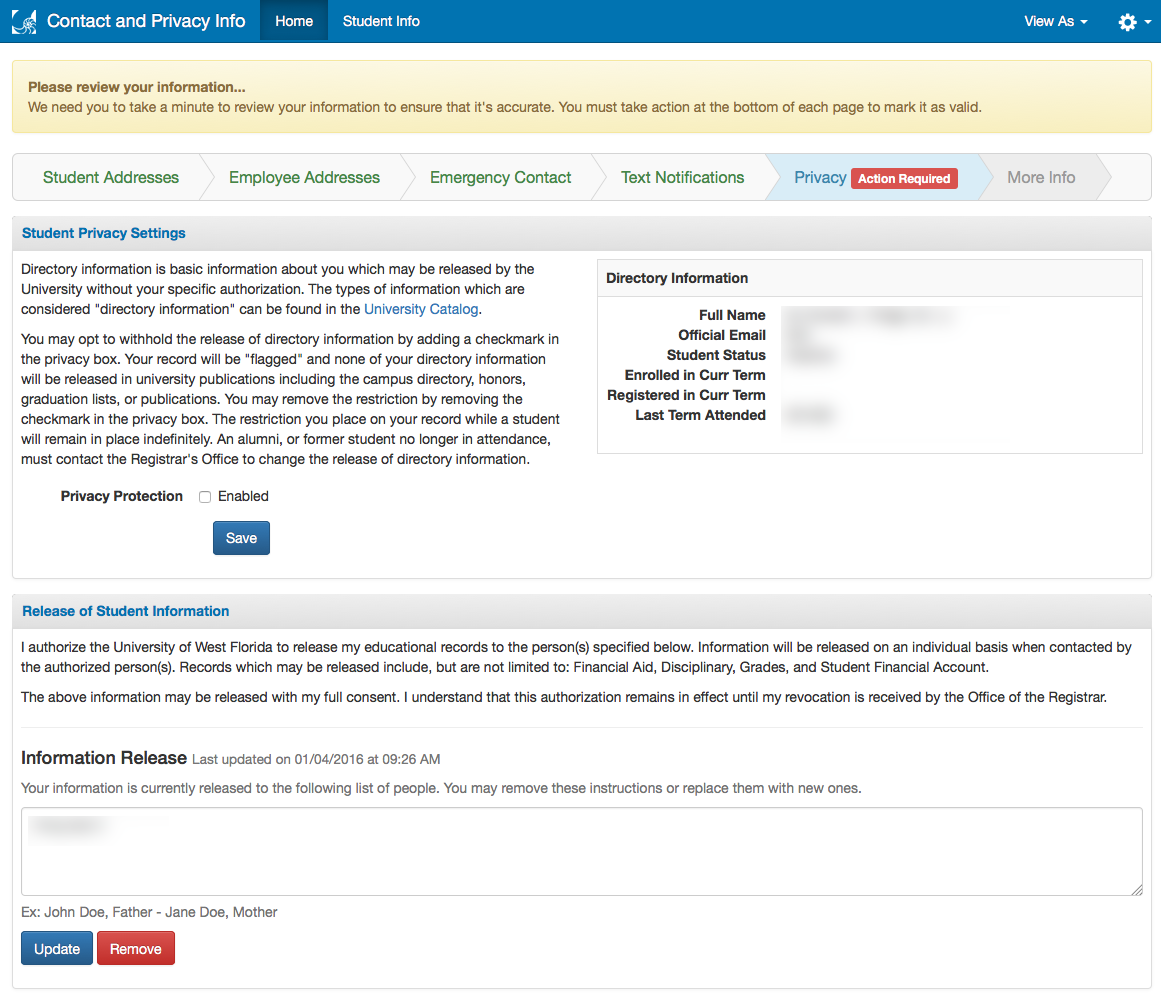 More Info
The more info section asks students a few more questions before finishing the wizard.  Note: if the student does not click the word "Finish" at the bottom of this page the wizard will not be considered complete.
Future Enrollment
Students are asked to let us know if they plan on coming back the following semester.  If they aren't enrolling, they see these suggestions and a form to let us know why not.
FAQs
How do I change my address if I am an inactive student and no longer have access to MyUWF?
Previous/Next Steps
(Enter text here)
Contributors
Loading ...
Interested Parties
Loading ...
| | |
| --- | --- |
| Process Owner | |
| Status | DRAFT |
| Last Reviewed | January 2016 |
| Last Edited | |
| Notes | |
| Template | BPL Procedure v.1.0.1 |