Skip to end of metadata
Go to start of metadata
Overview

Follett Discover is a powerful online tool that transforms the course materials discovery and adoption process for faculty and helps students obtain, organize and instantly access their required and recommended course materials from within your learning management system.
The purpose of this document is to give an overview on how to use and access some of the features within Faculty Discover.
Guide To Follett Discover for Faculty 2020 (Printable PDF Instructions)
Follett Discover Concierge Adopter User Guide 12.2018 (Printable PDF instructions)
Follett Discover for Faculty (training video)
Additional Discover Resources for Frequently Asked Questions (Google Drive)
Instructions
Discover Faculty Link: https://uwf.instructure.com/users/29566/external_tools/176 
Make sure to always allow pop-ups from Follett Discover: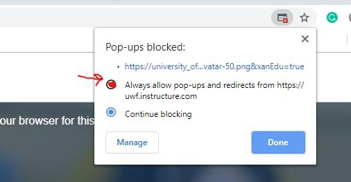 Terms must be accepted to access Follett Discover:
or
Follett Discover is available in Canvas via My.uwf.edu
Log into Canvas and click on "Account" from your Canvas Dashboard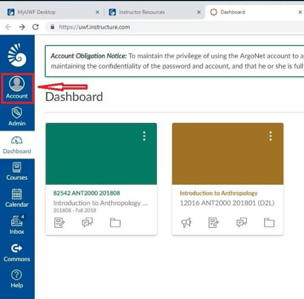 From your Account, click on "Profile"
From your Account Profile, click on Follett Discover.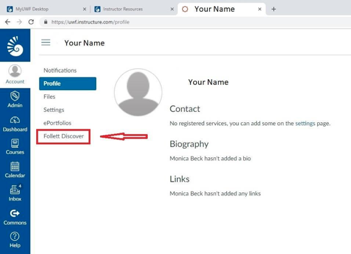 The following popup should appear:
*You may get a message (especially if this is your first time using Follett within Canvas) to turn off pop-up blocking. Go into your search bar and allow pops, select Done.
** Terms must be accepted to access Follett Discover: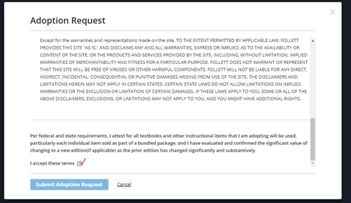 Submitting Adoptions
Once in Follett Discover, make sure the correct term is selected and click Update. Your assigned courses will pop up along with past textbooks used. Select the textbooks to adopt or search for new materials. 
Tip:  Click the Follett | Discover logo to return back to this dashboard at any time.
Discovering course materials is easy with Follett Discover.  Just type in your Subject to start discovering new materials. 
| | |
| --- | --- |
| Select Term allows you to select between past terms, current terms and future terms.  If adoptions are open, you can start adopting for any future terms that are available here. | Selecting the course header allows you to manage your adoptions, discover materials, upload your own content and leave a message for your students within each specific course. |
| Manage by Section allows you to submit and manage adoptions by individual section instead of at the course level. | Share allows you to email a copy of your adopted materials.  |
Viewing Course Materials 
You can also use the global search in the upper right hand corner to find course materials & supplies by keyword, author, title or 13 digit ISBN.
The course material details page displays information including the description, table of contents, lowest price available to your students and availability options such as rental or digital.
Scrolling down you will see neighboring institutions who have adopted this material, related items from this publisher, materials that other instructors adopted.
To adopt a material:
Select the material usage
Click Adopt to submit.
My Library
You can use the library to quickly adopt titles you have adopted previously.  Access your library from the My Library link on the main dashboard or the Copy button within your courses.
To adopt multiple materials from your library:
Click the Copy button at the bottom of the page
Select all the materials you wish to adopt
Select the department and term
Select all the courses you want to adopt the materials for
Click the Adopt Materials button to submit.
Tip: Create shelves to organize your library by subject or topic. 
Manage Course Adoptions
Manage a course by selecting the course banner or the View all Materials link from the My Courses page. Within the course management screen, you can:
Update the Discipline and Subject
View the status of your adopted materials
Remove adopted materials
Adopt items from your library
Create custom course packs
Continue discovering additional materials
Add instructions for your students