Skip to end of metadata
Go to start of metadata
Overview

Follett Discover is a powerful online tool that transforms the course materials discovery and adoption process for faculty and helps students obtain, organize and instantly access their required and recommended course materials from within your learning management system.
The purpose of this document is to give an overview on how to use and access some of the features within Faculty Discover.
Follett Discover Concierge Adopter User Guide 12.2018 (Printable PDF instructions)
Follett Discover for Faculty (training video)
Additional Discover Resources for Frequently Asked Questions (Google Drive)
Instructions
Follett Discover is available in Canvas
Log into Canvas and click on "Account" from your Canvas Dashboard
From your Account, click on "Profile"
From your Account Profile, click on Follett Discover.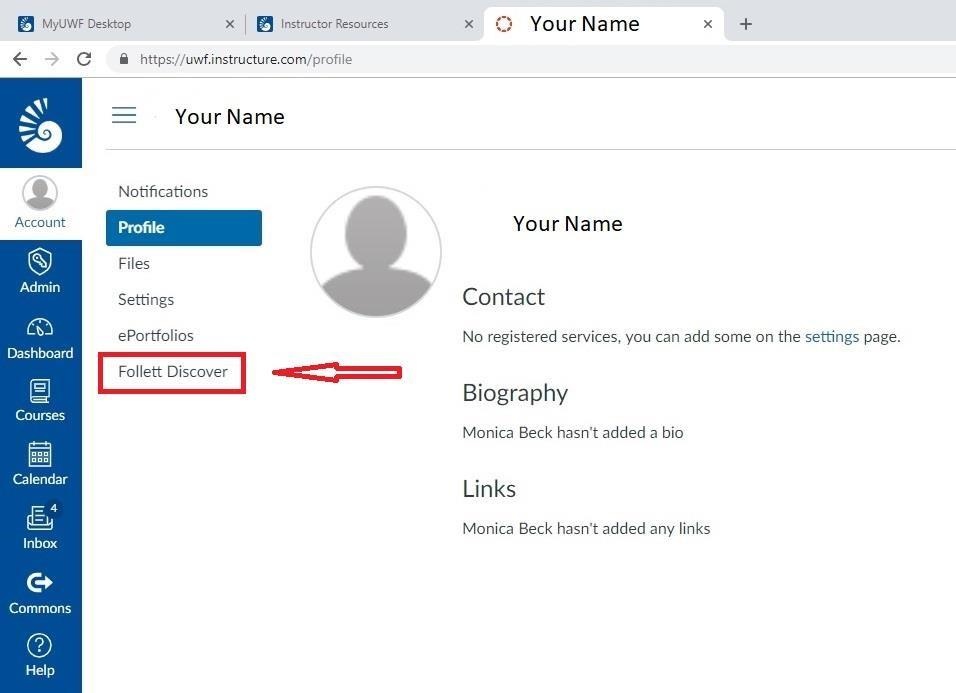 The following popup should appear:
Login using your UWF Gmail address and password.
*You may get a message (especially if this is your first time using Follett within Canvas) to turn off pop-up blocking. Go into your search bar and allow pops, select Done.
**If this is your first time entering, you will have to Submit Adoption Request.
Step 1
Once in Follett, make sure the correct term is selected and click Update. Your assigned courses will pop up along with past textbooks used. Select the textbooks to adopt or search for new materials. 
Tip:  Click the Follett | Discover logo to return back to this dashboard at any time.
Select Term allows you to select between past terms, current terms and future terms. If adoptions are open, you can start adopting for any future terms that are available here. 
Discover For This Course starts the process to discover and adopt new materials for this course. To activate the Discover button, select the Discipline and Subject from the drop down menus. 
Manage Course allows you to manage your adoptions, discover materials, upload your own content and leave a message for your students within each specific course.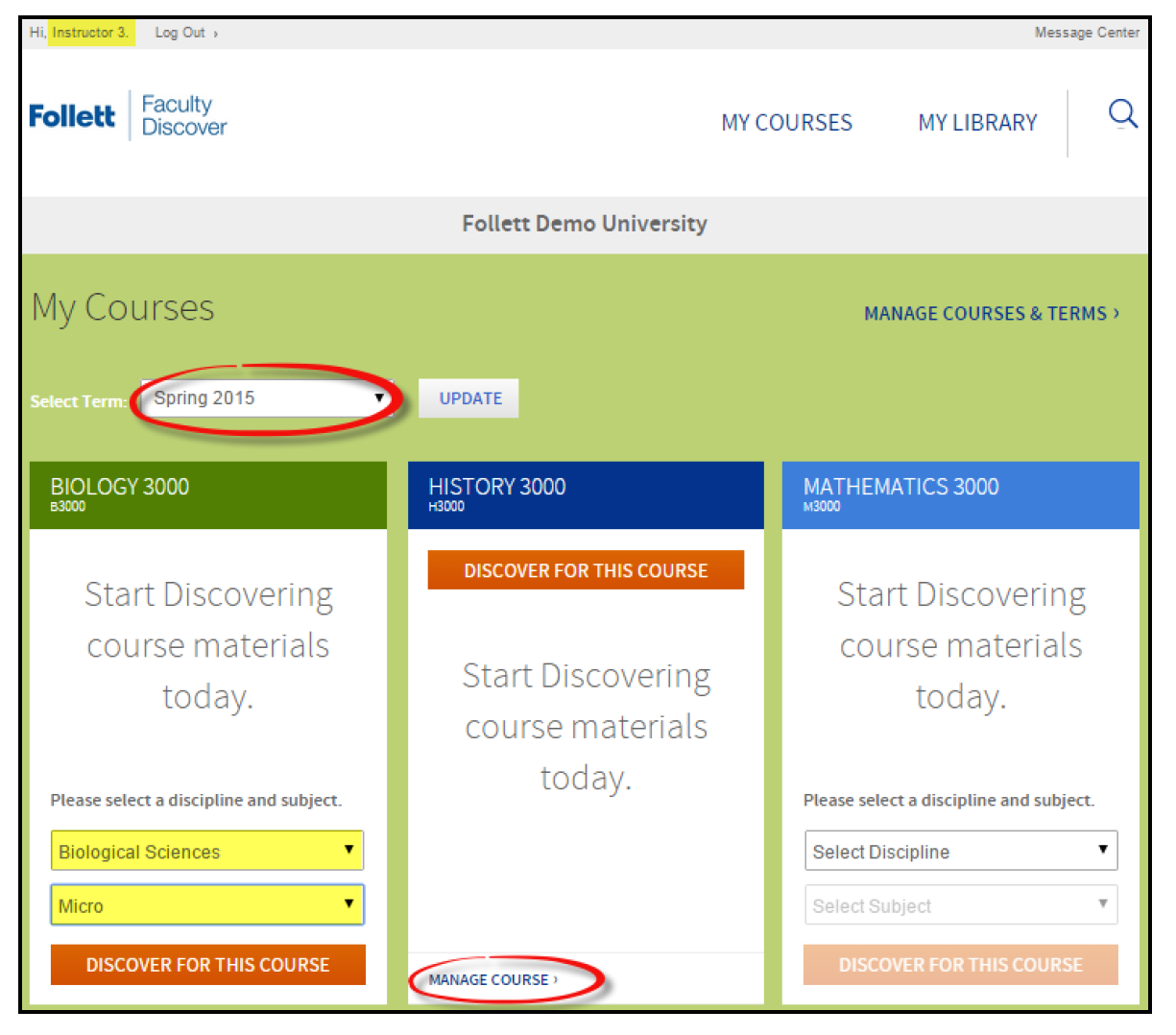 Step 2 - Submitting Adoptions
Discovering course materials is easy with Follett Discover. You can use the discipline, subject and results filter to show titles specific to your course or utilize the smart search to find course materials by keyword, author, title or 13 digit ISBN. 
Filter Results opens up the option to select/change the discipline, subject and other filters to refine your search.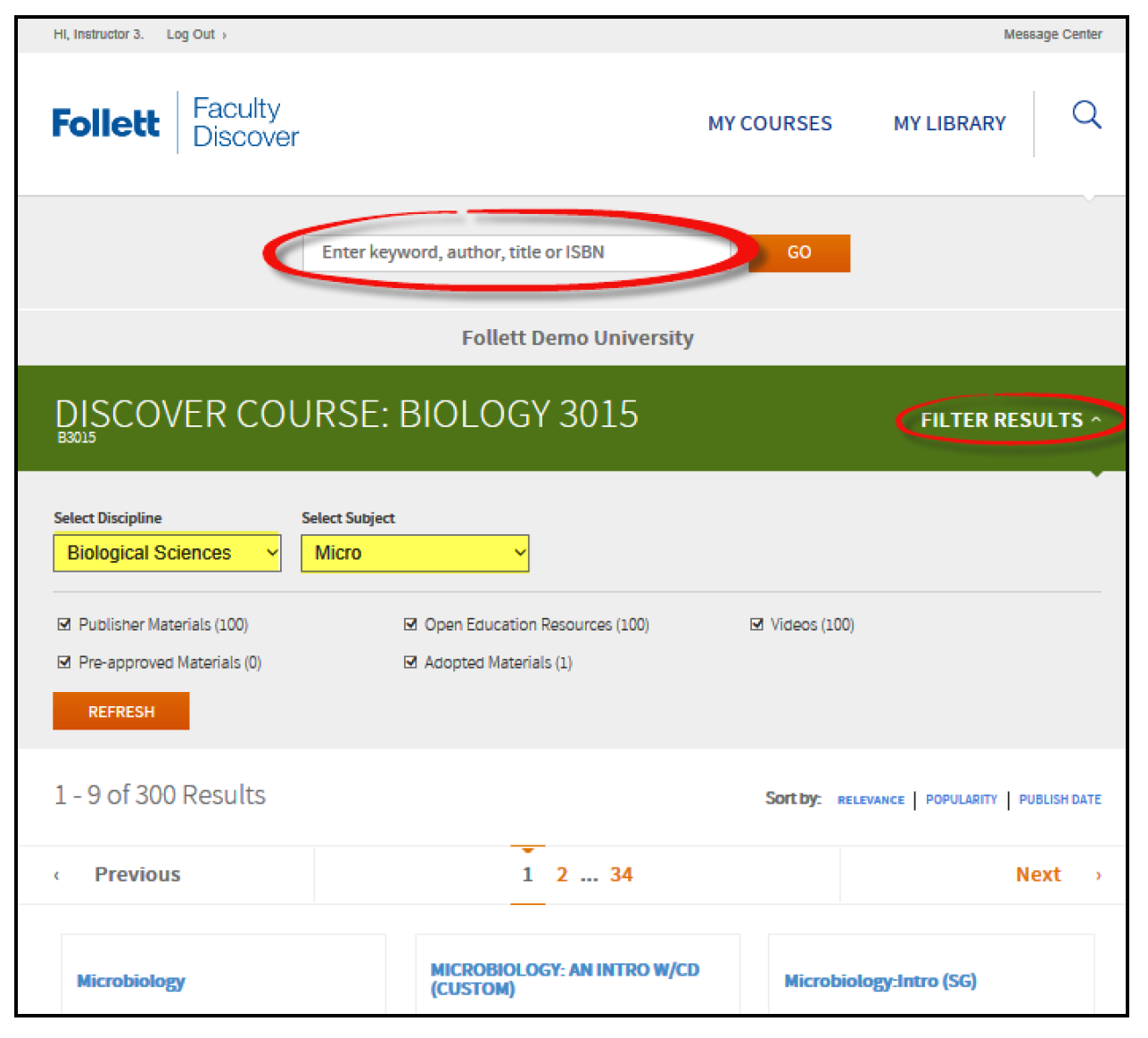 Step 3 - Viewing Course Materials
The course material details page displays information including the description, lowest price available and availability options such as rental. 
Ratings & Reviews allow you to see what other instructors have rated this title and view their comments. You can even write your own review and a rating to help other instructors determine if this title is right for their course. 
Scrolling down you will find related items from this publisher, materials that other instructors adopted and ratings & reviews by other faculty. 
To adopt a material: 
1. Select the material usage from the drop down. 
2. Click Adopt to submit. 
Tip: You can adjust the material usage at any time by editing the adoption from the Manage Course screen.
Step 4 - Manage A Course
Manage a course by selecting the course banner or Manage Course from the My Courses dashboard. Within the course management screen, you can: 
- Update the Discipline and Subject 
- Manage adoptions by section 
- View the status of your adopted materials 
- Remove adopted materials 
- Manually adopt materials 
- Adopt items from your library 
- Create custom course packs 
- Continue discovering additional materials 
- Add instructions for your students 
Hover over the status indicator to view if this course adoption is pending institution or bookstore approval. 
With Add, Copy, Create, and Discover, you can add a course material not found within the Discover library, adopt saved materials from your library, create course packs with XanEdu, and continue to discover course materials. 
No Titles Required 
If your course does not require any course materials, navigate to the course management page. Once within the course, select I have no items to adopt for this course to complete your adoption
Step 5 - My Library
You can use the library to save titles you would like to use at another time or for another course. The library also saves your previously adopted materials for quick adoptions next term. You can access the materials within your library from the My Library link on the main dashboard or the Copy button within the course details page. 
To adopt materials from within My Library, 
1. Select Adopt 
2. Select all the courses the material will be used for and select the usage for each course. 
3. Click the Adopt button to submit. 
To adopt materials from within a course, 
1. Select Copy 
2. Select all materials that will be used within the course. 
3. Click the Adopt Materials button to submit. 
Step 6 - Create Content
Follett Discover is seamlessly integrated with XanEdu. XanEdu helps instructors create course packs, custom books and lab manuals. Select Create to start the creation of a custom content to use in your course.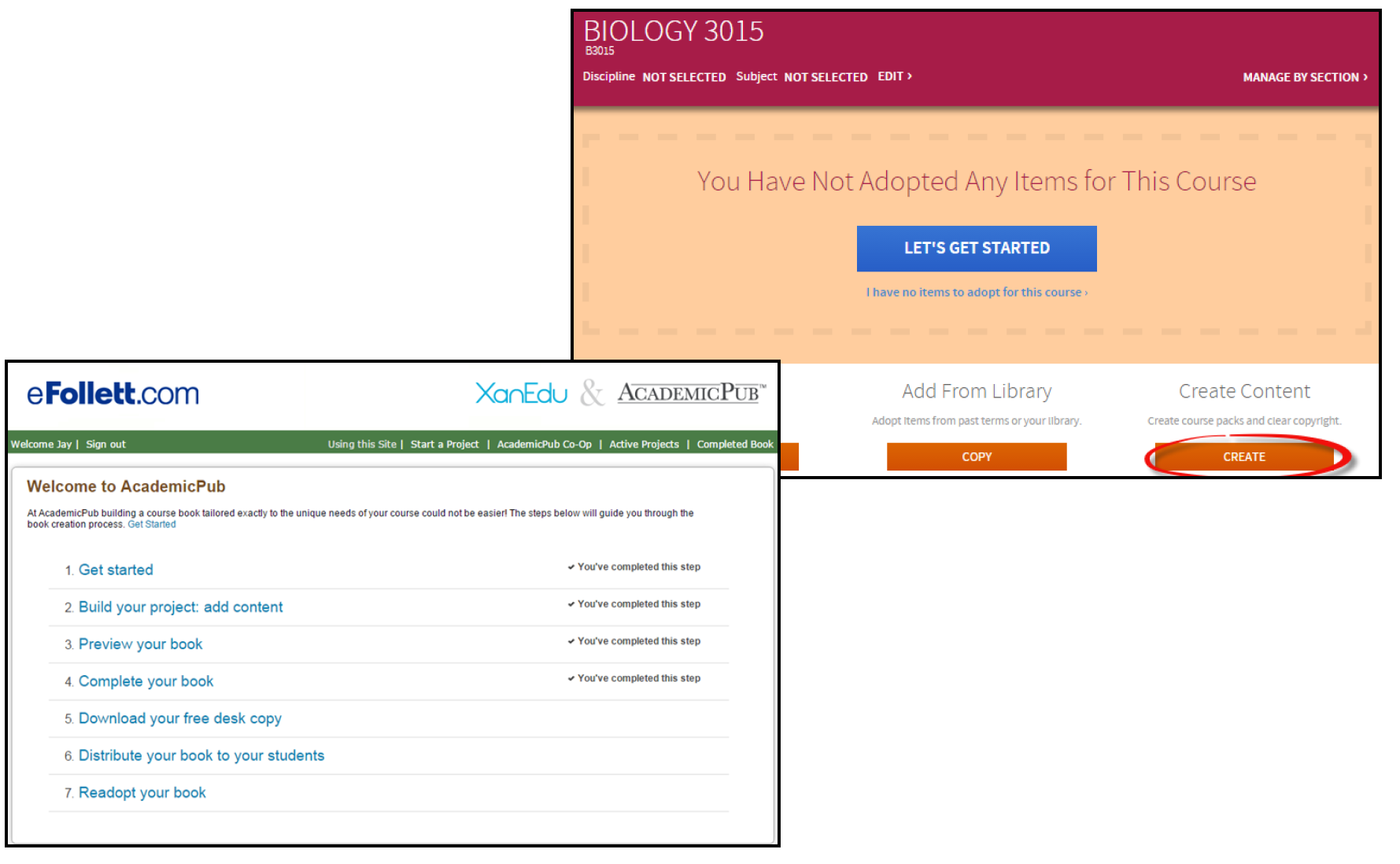 Add Title 
Follett Discover leverages the entire Follett title catalog of all digital and physical course materials. If you would like to request to use a new title or are unable to locate materials within the Discover library, select the Add Title button.  
Fill in the required fields and provide any other information for the title. You can use Add Title to adopt course related supplies. Any titles adopted though Add Title will become part of your library for easy adoption in the future.