Skip to end of metadata
Go to start of metadata
Overview
Here you will find instructions on how students can add/register for courses in SSB.
Instructions
Step 1: Log in to Student SSB.
Step 2: Select the Student tab.
Step 3: Choose the Registration app.
Select the Add or Drop Classes link.
Select the term for which you are trying to register-> Submit

Enter the Alternate PIN assigned to you by your advisor-> Submit
To search for courses, click the Class Search button.

If you search by subject only you will need to click the View Sections button to see all section of the course.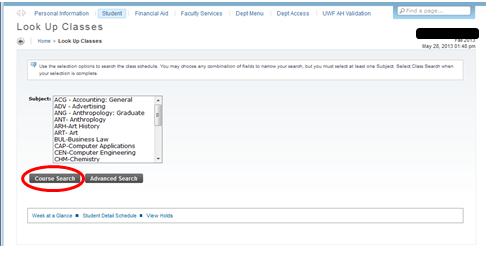 To perform a more detailed search, click the Advanced Search button

The screen should now look like this
Enter your search criteria and click Class Search.

All available courses and sections will then appear.

Note: You can enter as much or at little search criteria as you would like- the more criteria you search by, the more specific the search will be (will limit the number of courses that appear)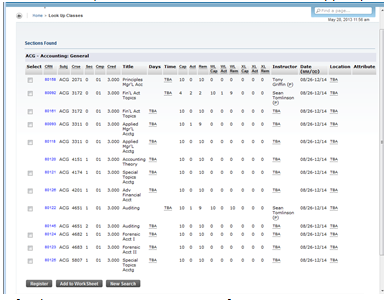 Step 4: Check the box for the course you want to register for.
Click the Register button at the bottom of the screen.
You will then be redirected to the Current Schedule page that will display any courses you have successfully registered for, as well as any registration add errors.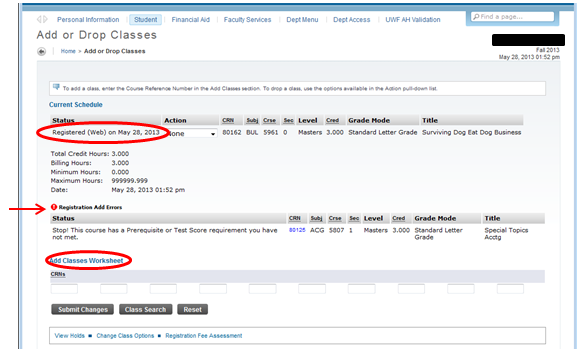 Note: If you already know the 5 digit CRN for the courses you plan to register for, you can enter each directly into the boxes under the CRNs section in the Add or Drop classes Worksheet.

Click the Submit Changes button once you have entered the CRN's.
FAQs
Can faculty/staff edit a student's schedule in SSB?
No. Faculty/staff can only edit a student's schedule in INB.
Previous/Next Steps
(Enter text here)
Contributors
{"scope":"descendants","reverse":"true","order":"update","contextEntityId":2622743}
Interested Parties
{"include":"watches","scope":"descendants","reverse":"true","order":"update","contextEntityId":2622743}
---