Versions Compared
Key
This line was added.

This line was removed.

Formatting was changed.
Comment: updated the with a mandatory opt-in time frame

Overview
Excerpt
This article will introduce the new Gmail interface and features. The new interface will allow you to manage messages from the Inbox while being able to see your Calendar, Keep notes, or Tasks in the new sidebar on the right. See all the great new features below.
Organize Messages
Simply hover your mouse cursor over a message to see the options. From there you will be able to archive, trash, mark the email as read/unread, or snooze the email (more information below).
Snooze Messages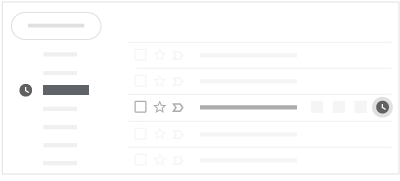 While hovering over a message, selecting the last option will allow you to snooze a message until later. This message will return to the top of your inbox at the date, and time, you select. Messages that are currently snoozed may be viewed in Snoozed folder on the left menu bar.
View Sidebar Apps
On the right side of Gmail, you will see the Calendar, Keep, and Tasks icons. Click these to view the apps in your right sidebar.
Calendar: View your calendar hour-by-hour for a specific day.
Keep: Take and view notes.
Tasks: Add and manage your tasks. 
Advanced Security
Gmail is now more secure than ever thanks to the Google Cloud. Gmail uses machine-based learning to determine if messages contain malware, or attempt to fraud users with phishing attacks. These new settings will not impact existing security settings that show a pop-up or move messages to the spam folder. Potential threats will be marked with larger, clearer warnings at the top of an email. If you receive a pop-up warning, it's not definitive that the email is malicious. The pop-up warning is designed to get you to take a closer look at the message. As always, don't rely solely on pop-ups or security settings. Be vigilant when reviewing all emails and always "think before you click!"
Example Security Alerts


New Security Settings
Spoofing and authentication—Protection against spoofing a domain name, employee names, email impersonating your domain, and unauthenticated email from any domain (indicated by a question mark next to the sender's name).

Attachments—Protection against encrypted attachments and scripts from untrusted senders.

Links and external images—Identify links behind short URLs, scan linked images for malicious content, and display a warning when users click links to untrusted domains.
And More!
See the Helpful Links below for more features, cheat sheets, and help.
FAQs
Expand
| | |
| --- | --- |
| title | I like it! How to I switch to the new Gmail? |
Click the Settings gear in the top-right corner of your Gmail
Click "Try the new Faculty & Staff at UWF Mail"

Expand
| | |
| --- | --- |
| title | I work best in the classic Gmail. How long will I have access to it? |
Like our recent change to the new Google Calendar, eventually this update will be permanent. If you chose not to opt-in, the new Gmail interface will be mandatory later this year. We recommend users try the new Gmail as soon as possible to become familiar with the new features.
Helpful Links
Panel
Table of Contents
| | |
| --- | --- |
| outline | true |
| indent | 20px |
| style | none |
| printable | false |