Overview
This article describes how a user would update their text message preferences in the Contact and Privacy Info app.
Instructions
Updating Emergency Message Preferences
You can enroll your mobile number in Rave, which is the system used at UWF to alert our community to important emergency situations. If you are not enrolled in Rave, your emergency messages section will look like this:

You must visit the Rave website to enroll your mobile phone number in the service. After entering your number, Rave will send you a confirmation text message with a code you must enter on their site. Once that is complete, you can come back to the Text Notifications tab in the Contact and Privacy Info app to verify that you are set up to receive Rave alerts from UWF. You may need to refresh your screen by clicking the "Refresh" button or the refresh button on your browser to load the latest information. Once you are subscribed, your page should look like this:

Updating Text Message Preferences
You can also enroll to receive text message notifications from UWF. You have two options that you can sign up for in this section: UWF Messages and Secure Messages. 
UWF Messages can be sent from a variety of sources and systems at UWF. The include messages about academic issues, enrollment opportunities, appointment reminders, and more.
Secure Messages are messages from systems that require the message to be sent to a verified phone number. Password reset texts are a good example of this kind of message.
To sign up for these text messages, you must first add your mobile number by clicking the "Add" link next to the mobile number:

Clicking the add button will cause a pop-up window to display. This window will allow you to enter your mobile number and your current password.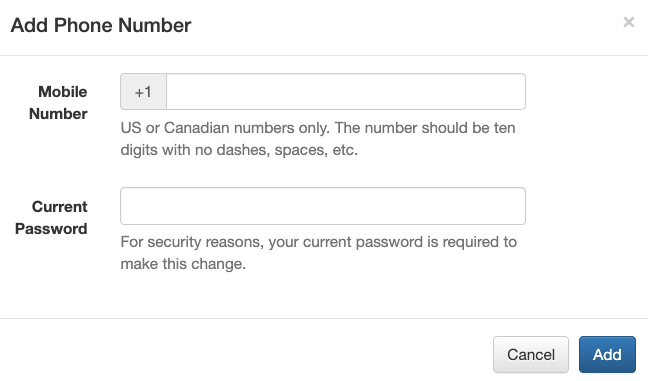 You will automatically be subscribed to UWF Messages when you add your mobile number. To unsubscribe from these messages, flip the toggle switch to the left so that it appears gray.

To receive secure messages, you will need to flip the toggle switch to the right so that it appears blue. Note: this does not automatically subscribe you to these messages. You must first enter the six-digit code that UWF has sent to your phone via text message and click the "Verify" button. If you need to re-send a verification text, you can click the "Send a verification text" link to the right of the "Verify" button.

After entering this code, the web page should reload and display a green checkmark with a "verified number" label. The toggle switch will also appear blue. This means that you have successfully enrolled in secure messaging with UWF.