Overview

Access to computing resources is available to University faculty, staff and students. Certain responsibilities accompany that privilege, and understanding these responsibilities is important for all computer users. Computer resources can be defined to include all University computing and telecommunications resources, facilities, networks, services, hardware and software. Users of these resources must agree to the UWF Computing Resources Usage Agreement below.

UWF Computing Resources Usage Agreement
Computing resources shall be used in pursuit of the University's mission, goals, policies and procedures. Computing resources shall not be used for personal financial gain or for commercial purposes not under the auspices of the University.
Computing users shall respect the computing environment provided for them. Computing resources shall not be intentionally altered, damaged, removed, or used to purposely impede the computing activities of other users.
Use of the University's computing and network services shall be in accordance with state and federal laws, the Florida Board of Governors' Regulations, and University of West Florida Regulations, Policies, and Procedures. Violations may result in revocation of privileges, sanctions, charges of misconduct, or legal action.
Computing users shall take responsibility for all computing resources assigned to them and shall not share access to these resources (such as passwords, Nautilus cards, or printing privileges). The University regards abuse of any computing resources at other sites, accessed from the University's computing services, as abuse of the computing services at the University.
Computing resources shall not be used to harass, intimidate, threaten, or discriminate against others.
Computing users shall adhere to established security procedures and shall not access resources to which they are not entitled, including but not limited to, representing themselves as someone else, altering or fabricating of records, or conducting unauthorized network scans.

Computing users will not connect personal computing devices to the UWF wired network. Only UWF Information Technology staff may connect computing devices to the UWF wired network.

Computing users must adhere to the federal laws regarding copyright, including software ownership and licensing.

Notice: Any UWF computer account holder who participates in the unauthorized distribution of copyrighted material, including unauthorized peer-to-peer file sharing, is subject to the loss of access to UWF computing resources, disciplinary action, and civil /criminal liability.
System Administrators reserve the right to access user processes and/or files in order to maintain proper operation of the systems or to investigate illegal or inappropriate use of the computing resources.
We may modify the terms of this agreement to, for example, reflect changes to the law or changes to our Computing resources. You should look at the terms regularly.
Computing Resources Usage Logon Banner

The logon banner below is shown on all UWF computers. This includes all University owned faculty, staff, student, and classroom computers. Users must accept the warning by clicking on the OK box prior to log in.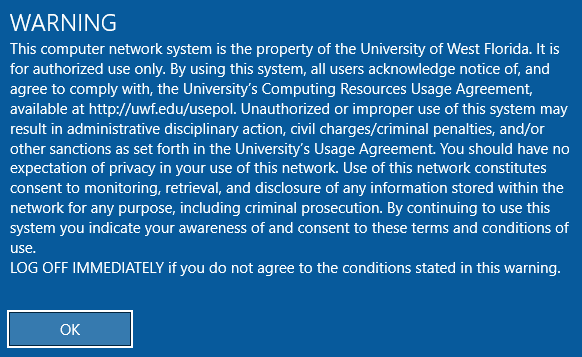 aup, usage agreement