Skip to end of metadata
Go to start of metadata
Overview
This page contains information on troubleshooting clicker issues including changing clicker channels and changing clicker batteries.
Common Issues
Why am I showing as Inactive in class?
If your instructor tells you that you are showing in reports as "Inactive" in class, it could be one of two things.
You are using the ResponseWare app but did not purchase a License Code, or
Your License Code is not registered.


TurningPoint License
The TurningPoint License is required for all students who use TurningPoint whether they are using the handheld clicker or the ResponseWare App. The TurningPoint License ensures that student responses are collected in the instructor reports. Without a TurningPoint License, students will be listed as "Inactive" during class sessions. Students can purchase a clicker, a clicker pack, and a TurningPoint license using the TurningPoint link in eLearning. 
If you purchase a Clicker device and register it in your Turning Account, you will also be able to access the ResponseWare app on your mobile device. If you do not have a License Code, you can follow the instructions at Purchasing a TurningPoint License (ResponseWare) using eLearning. You can also find the instructions for registering a license at Registering a clicker using eLearning for Students.
If your License is registered correctly, when you login to your Turning Account at Turning Technologies you should have a TurningPoint badge as shown below.

If you do not have a TurningPoint Subscription, you can purchase one as indicated below.
You should also have a green check in the Learning Management Systems box on your Turning Dashboard.
What does the orange blinking light mean?
Clickers will only blink green during an active presentation. When a clicker is operating properly you will see a green light flash during a presentation when you press any button on the clicker. If the light flashes orange, there are a couple of things that could be wrong.
First, check and make sure your instructor has started presenting the PowerPoint. 
Second, make sure your clicker is on the proper channel. 
Three, change your batteries.
Below is a clicker that is not working properly.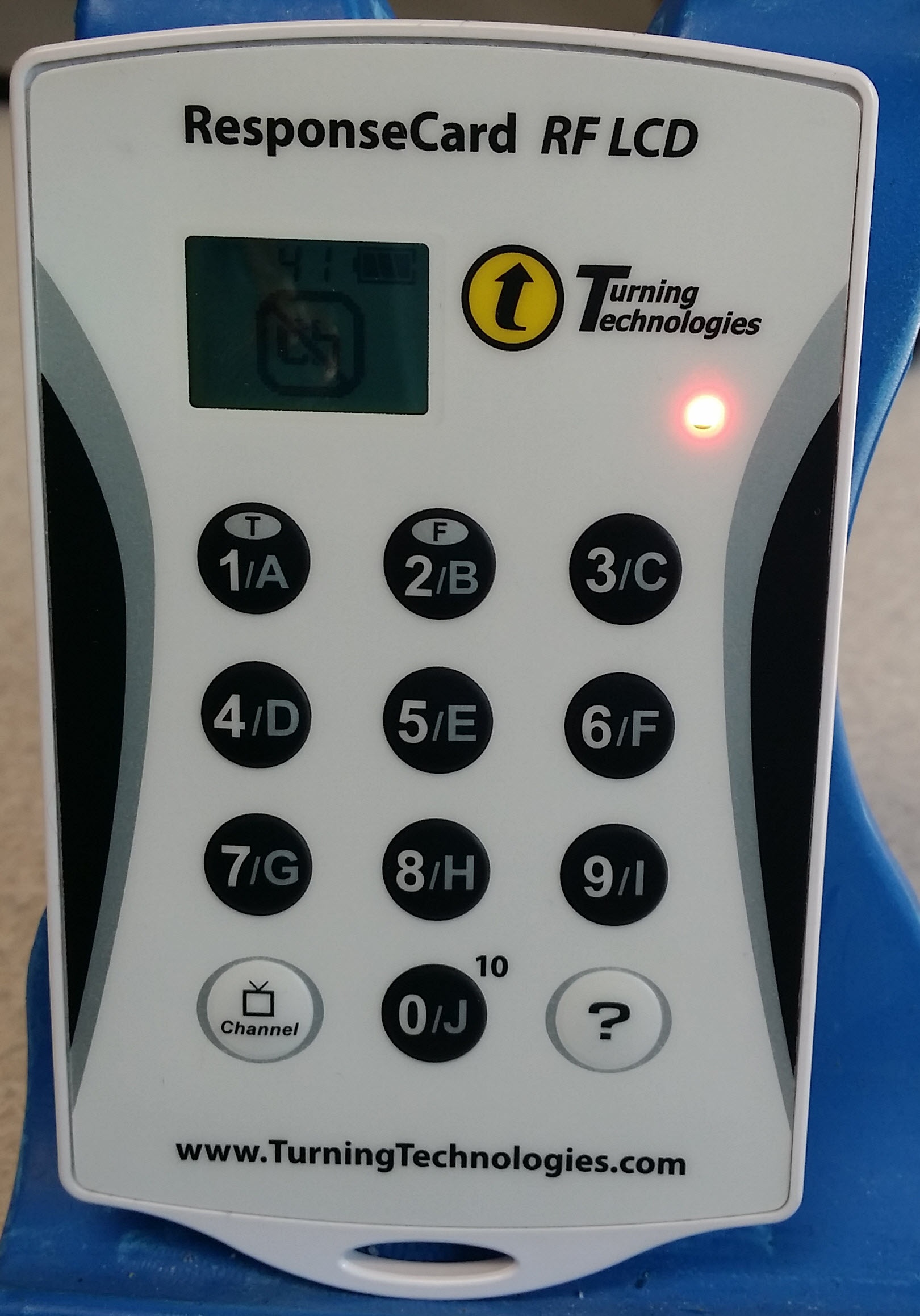 How do I change the clicker battery?
The average clicker battery lasts for about a year. Batteries can be purchased at the UWF Bookstore or a local store. A clicker requires two CR2032 button cell batteries. Below are the instructions on changing clicker batteries. 
Step 1
Unscrew the battery container on the back of the device.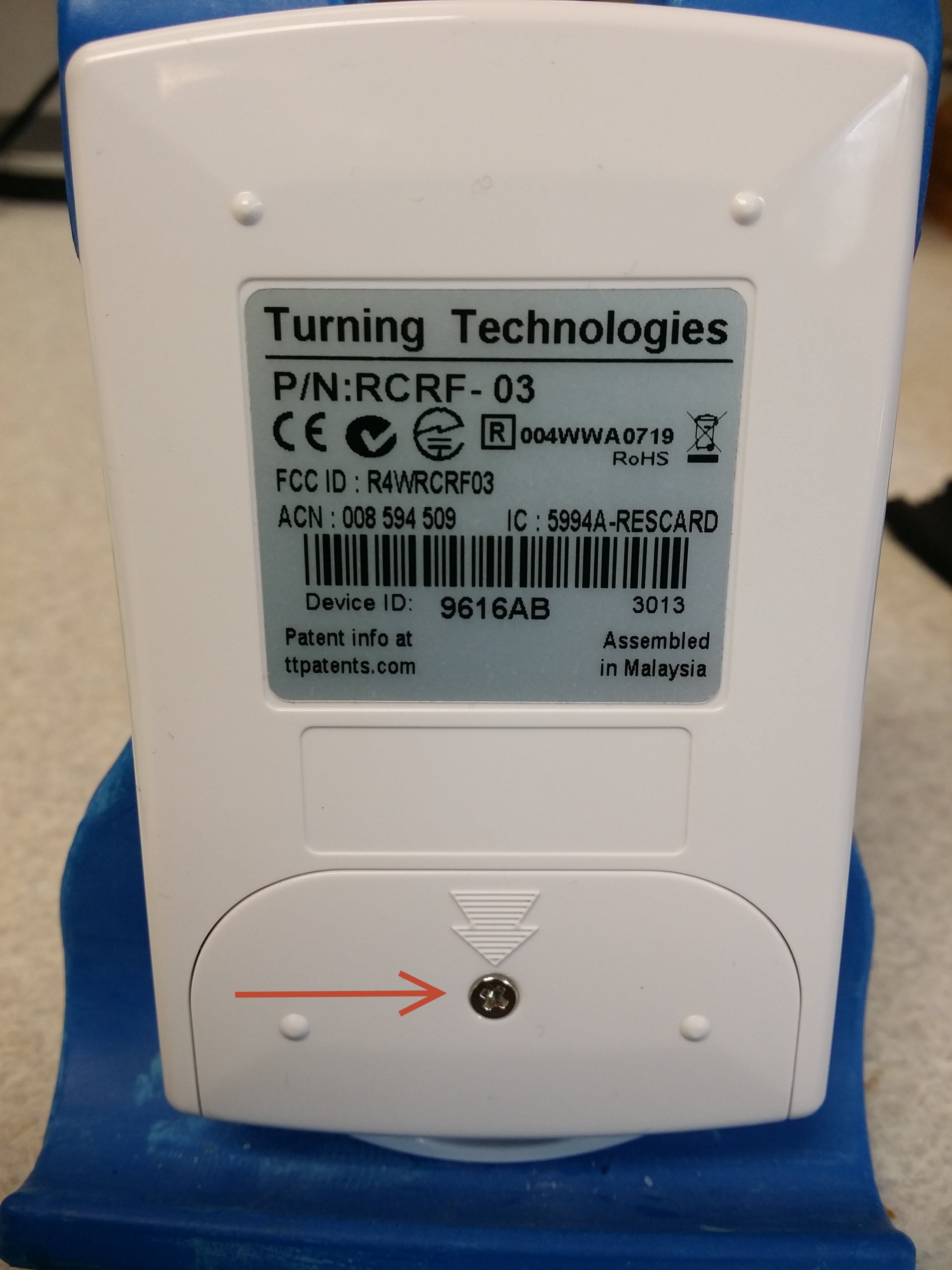 Step 2
Remove old batteries.
Step 3
Replace batteries.
Step 4
Replace battery cover and tighten the screw.
Step 5
During a presentation, press any button. If the light flashes green, your clicker is operational. 
How do I change the clicker channel?
Clickers are automatically set to Channel 41. To check your channel, click the Channel button on your clicker. The box should show 41. If your clicker is set on a channel other than 41 or if your instructor is using a channel other than channel 41, you can change the channel. 
Step 1
Press the Channel button on your device. 
Step 2
When the light blinks orange and green enter the new channel.
Step 3
Press the Channel button again. 
Step 4
The new channel should appear.