Created by

Unknown User (ggenovese)

, last modified by

Unknown User (arichard)

on Nov 14, 2022
Overview
Navigate allows students to view tutoring availability and schedule tutoring services. Services are offered by walk in and appointment. Not all tutoring services are available by appointment. Several services are available by walk in only.
Availability for both of these options can be viewed within the Schedule Appointment process.
Instructions for Students
Step 1: 
Log into myUWF using your argonet username and password by going to my.uwf.edu in an internet browser window (we recommend Google Chrome)
If this is your first time logging into myUWF, choose the "Activate your account - New to UWF" link and follow the prompts to activate your argonet account to have access to all of the apps in MyUWF 
If you forget your password, choose the "Problems logging in" link and follow the prompts

Step 2:
Search for Navigate using the search bar at the top. Be sure to "star" it on the top left corner so it's added to your favorites menu for next time. 
Step 3: 
From the student home screen - click on "Schedule an Appointment" from the menu on the right hand side

Step 4:
There are additional instructions on the Navigate page to assist you. Select Show More to view all of the information. From the dropdown menu, choose which support area you would like to meet with (only the areas available to you with appointment availability will be shown)
Academic Advising, Academic Support, Argo Central, Faculty Office Hours - more information about how to schedule those services 
Tutoring to schedule subject based tutoring, workshops, or other available services with tutoring offices across campus
Writing Lab to schedule services with the Writing Lab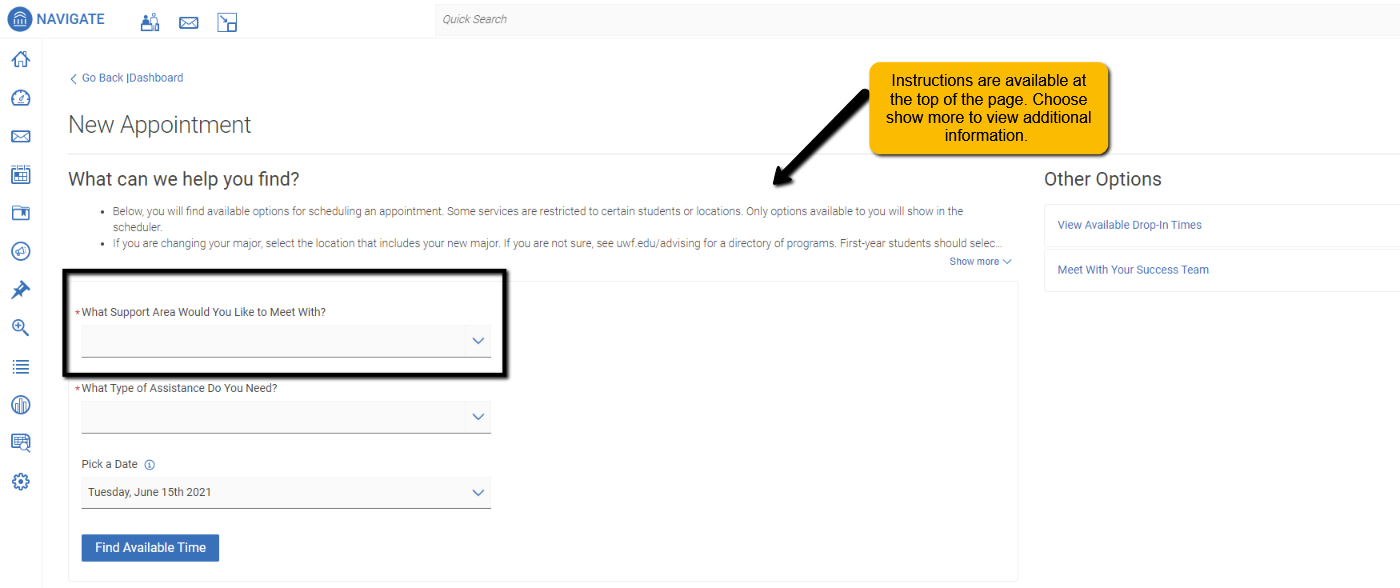 Step 5:
Choose from the available options for what type of assistance you need. It will only show the options available to you based on the support area you selected in the prior step. See the list of possible service reasons below. 

Course based Tutoring is available in a variety of subjects across the university from a variety of offices and organizations. Additional information can be found at uwf.edu/tutoring 
Course Based Tutoring - only courses that you are enrolled in and that have service availability will be shown
Workshops are designed for students to solve problems using techniques learned during lecture courses. Under the leadership of faculty, workshops are lead by student facilitators on a weekly basis to reinforce classroom knowledge.  Workshops are optional although most faculty offer incentives for attendance. STEM Peer Coaches help students succeed in Biology I, Biology II, Computer Science and Cyber Security. Coaches guide students through successful time management strategies, new study skills, and referrals to campus resources. Workshops and STEM Peer Coaching are offered for specific courses in the Hal Marcus College of Science & Engineering and will be limited to those enrolled in those courses or majoring in those programs depending on the service.
Physics Workshop
Business Calc Workshop
Computer Science/Cybersecurity STEM Peer Coaching
Student Success Workshops are offered to support a variety of areas to help students enhance their academic skills. The workshops are open to all students. More information on workshops can be found under the Services Offered section of the www.uwf.edu/tlr website. 
Boosting Academic Motivation Workshop
Conquer Online Learning Workshop
Think Ahead: Time Management & Study Skills Workshop
Final Exam Prep Workshop
Writing Lab
Face-to-face paper reading
Online interactive paper reading
Online Skill-of-the-week tutoring
Online Writing Lab (OWL) in Canvas
Skill-of-the-week tutoring
Real Time Writing Workshop
Step 6:
Pick a date that you would prefer to meet with someone or leave it as the default (today's date) and select Find an Available Time to be shown options in the near future
Step 7
Review and Select from the available locations/times/days displayed that work for you. Please note that some services are tied to your specific advisor and you will only see their availability or location. Also note, some students may have more than one advisor on your success team, if you have a preference you may wish to choose a staff member on the left side under the calendar to filter for a specific staff member or when the available times/days are shown, select the location or staff member at the top if there is a choice.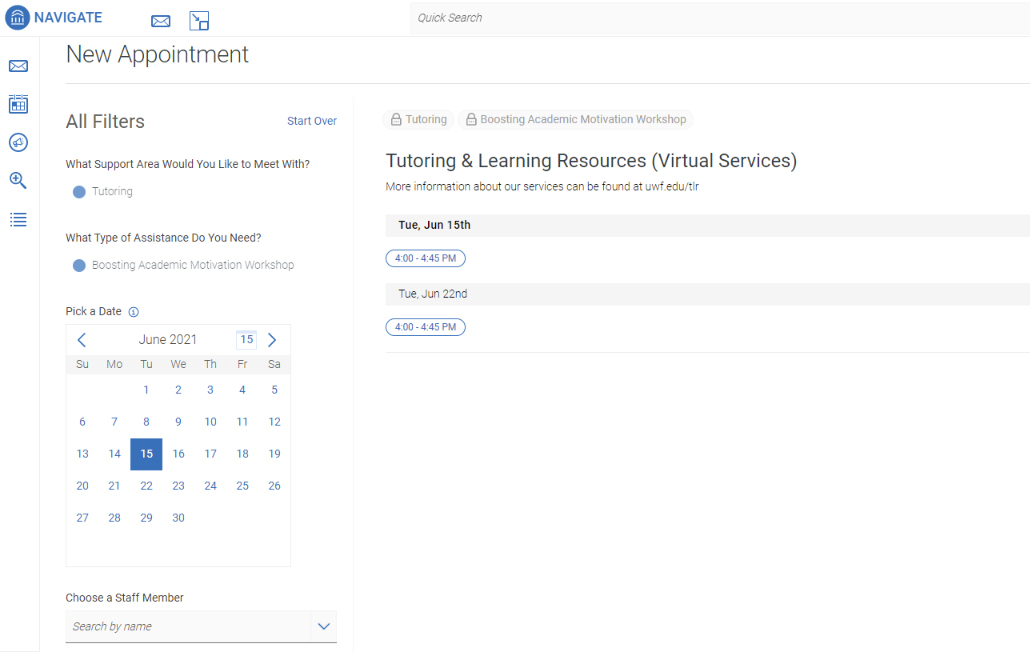 Step 8: 
Review the appointment details that you have selected - including the date/time and the location. Please note that the times shown are listed in your local browser timezone so be aware of your computer settings. The default appointment settings will send both an email to your UWF address to confirm your appointment as well as a reminder message the day before and a text reminder will be sent to your registered mobile number an hour before your appointment - if you do not wish to receive the reminders, click the button(s) to unselect. You MUST select Schedule to actually schedule the appointment. You will receive a confirmation message on the next screen. 
You should see an Appointment Confirmation once you have successfully completed scheduling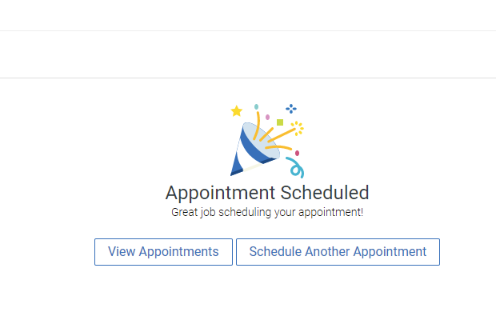 Drop In Option Information: 
Some services may not be available by appointment and may only be available via drop-in. From the main scheduling window, select View Drop-In Times. Select the available support area and assistance from the drop-down menus to be shown the available options. Then click on the locations presented to be shown further details related to the drop-in services including days, times, and locations.