Skip to end of metadata
Go to start of metadata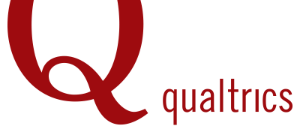 Overview

Qualtrics Research Suite is a web-based survey tool available to UWF faculty, staff, and students.

Pages on this Topic
Qualtrics Support
Qualtrics is supported on the following web browsers: Internet Explorer 7+, Firefox 3+, Safari 4+ and Chrome 2+.
If you have questions about how to use Qualtrics or are experiencing technical difficulties, you may open a ticket with Qualtrics by:


Logging into Qualtrics, scrolling over to the top right corner and clicking on "Support & Feedback".  Fill in the required details and click submit. 
Email support@qualtrics.com or call 1-800-340-9194.  Qualtrics provides support Sunday 4PM - Friday 7PM Central & Saturday 10AM - 6PM Central.

If you are a student, faculty, or staff and have difficulty accessing Qualtrics, please contact the ITS Help Desk at (850) 474-2075.
FAQs
When I log into Qualtrics I no longer see my surveys
When your primary UWF email address changes and you log into Qualtrics, you will notice that you no longer see your surveys. If this happens, please contact the ITS Help Desk immediately for assistance.
If I collaborate with a group of users repeatedly, do I need to search for each user each time to collaborate?
If you repeatedly collaborate with the same group of individuals, a Qualtrics administrator can set up a Qualtrics Group for you. This will enable you to search only for the group that contain the users for collaboration purposes. These requests are only accepted for groups of 5 users or more. Please email your request to helpdesk@uwf.edu. In the request, include the UWF Argonet username of each user and the requested name of your group. Please allow up to 72 hours for the request to be processed.
Does UWF offer classroom training sessions for Qualtrics?
Employees may check if any Qualtrics training sessions are available by visiting the Professional Development Reservation Desk app in MyUWF.  Students may check the ITS Workshops website for classroom based training opportunities.
How do I create a copy of a Qualtrics survey?
Link to the Qualtrcs help page
Note: To copy a survey to another user account, you must include the full username. The username for students will be their student email address followed by #uwf (ex. abc123@students.uwf.edu#uwf). The username for faculty/staff will be their facultyu/staff email address followed by #uwf (jdoe@uwf.edu#uwf).
Can I edit my 'reply-to' email in Qualtrics to a Department email account?
No. Qualtrics will only allow surveys to be sent from your email. This is a security measure that prevents users from sending as other users without their consent. As a workaround, we suggest composing an email in Gmail or Message Composer and inserting the survey link.
Do student accounts have more restrictions than facstaff accounts?
Yes. Below are the differences in restrictions for the 2 user types:
|   | Students | Facstaff |
| --- | --- | --- |
| Allowed Outgoing Emails/Week | 500 | unlimited |
| Total Allowed Surveys | 50 | unlimited |
| Allowed Active Surveys | 20 | 100 |
| Allowed Graphics Storage (MB) | 2000 | 10000 |