Overview
IMPORTANT: Please allow 6-8 weeks for processing and shipping of all requests. There is a $10.00 fee per diploma request and a $3.00 ($3.94 effective March 18, 2023) shipping/handling/processing fee per diploma.

The payment must be received prior to processing a request.
The diploma name must match the legal first and last name on file with the University. To change a legal first and/or last name on the diploma and the University record, you must submit a Student Data Change Form with supporting legal documentation.
The University provides a standard-size diploma. The dimensions for the standard diploma are 8 1/2 inches by 11 inches. The UWF Bookstore offers diploma frames for showcasing your diploma.
Instructions
Step 1 -  Log in to
MyUWF
Students will need to log into the MyUWF portal. 

 If you are unable to log in to MyUWF, please see Can't Access MyUWF. Follow the directions until successfully logged in. 
Active Students:
Step 2 -  Type "Diploma Request" in the search bar
Step 3 -  Click on the Diploma Request app. Follow the Parchment link to be redirected to online ordering

Inactive Students
 

(have not attended for three consecutive semesters):


Step 3 -  Click the "Create Account" button and it will take you to the New Learner Account page.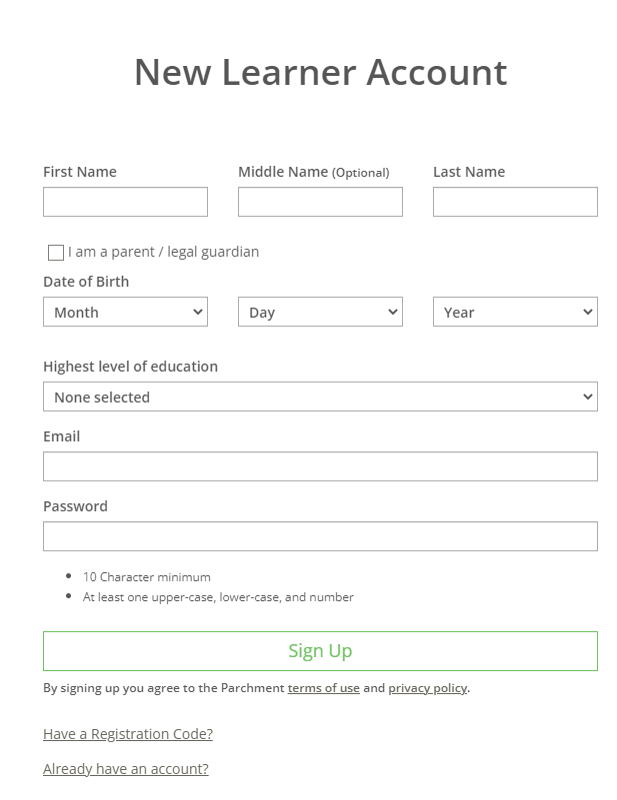 Step 5:
Click the Plus Button
Step 6:
Type in University of West Florida for the Institution.
Step 7:
"Replacement Diploma - Digital and Print" Option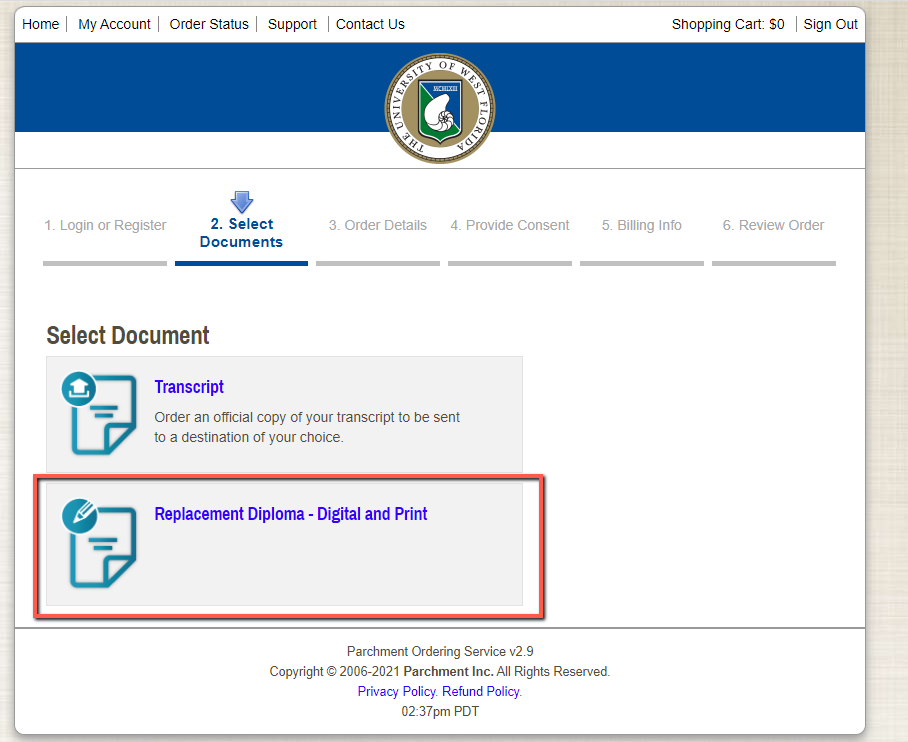 Step 8:
Enter Mailing Address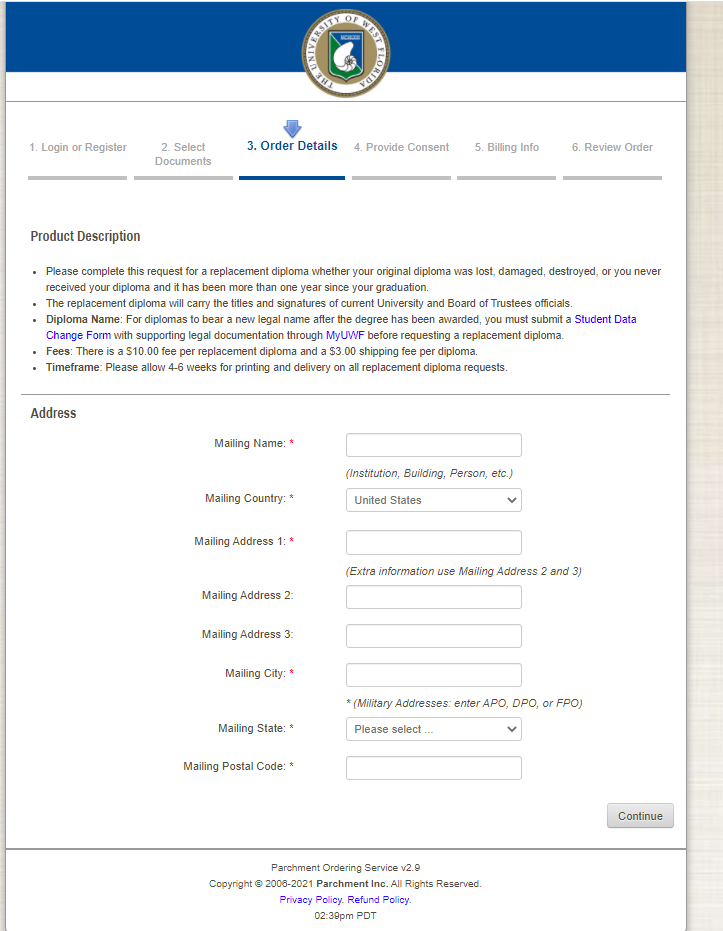 MANDATORY:

 

To avoid delays please provide the "Degree Awarded", "Mailing Method" and "Major".

 

Review Order and Click Check Out



Step 9:
Read the FAMILY EDUCATIONAL RIGHTS & PRIVACY ACT OF 1974(FERPA). Once done click "Accept and Next".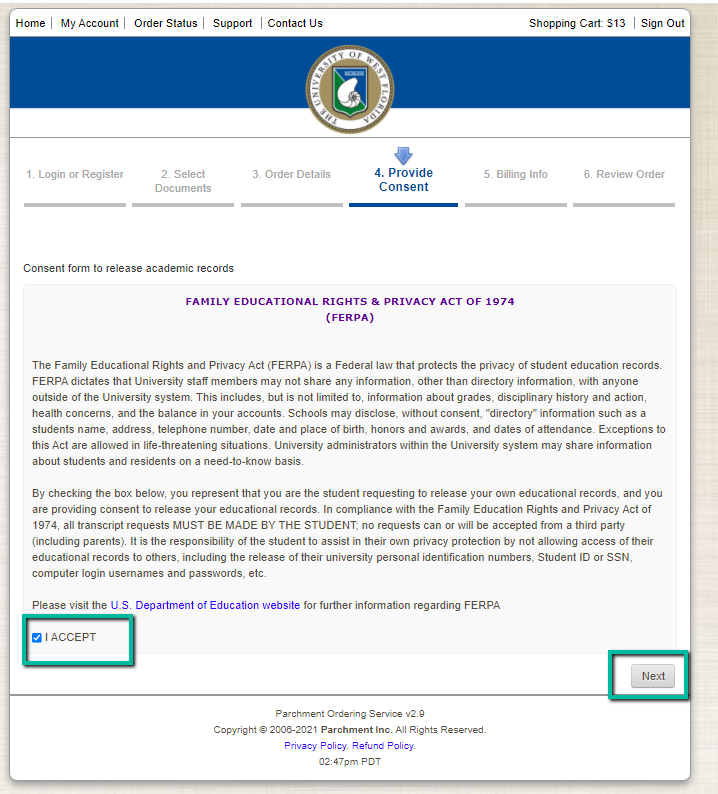 Step 10:
Enter Payment Information and Click Next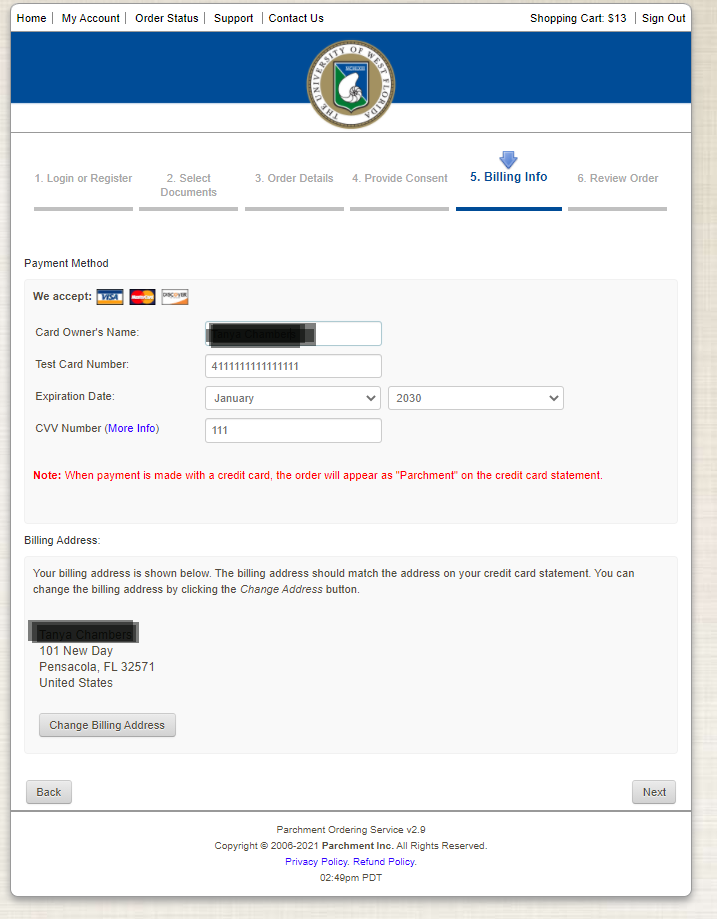 Step 11:
Review Order and Click Confirm to Submit. 
Please allow 6-8 weeks for printing and delivery on all duplicate diploma requests.


FAQs