Overview

Each student and employee has the opportunity to print one Free, 14-day, Temporary Parking Permit each semester.

Instructions
Log in to MyUWF. Search for the Parking Transaction Portal app. Click on the app then follow the steps below.
Step 1
Use the UWF Login to gain access.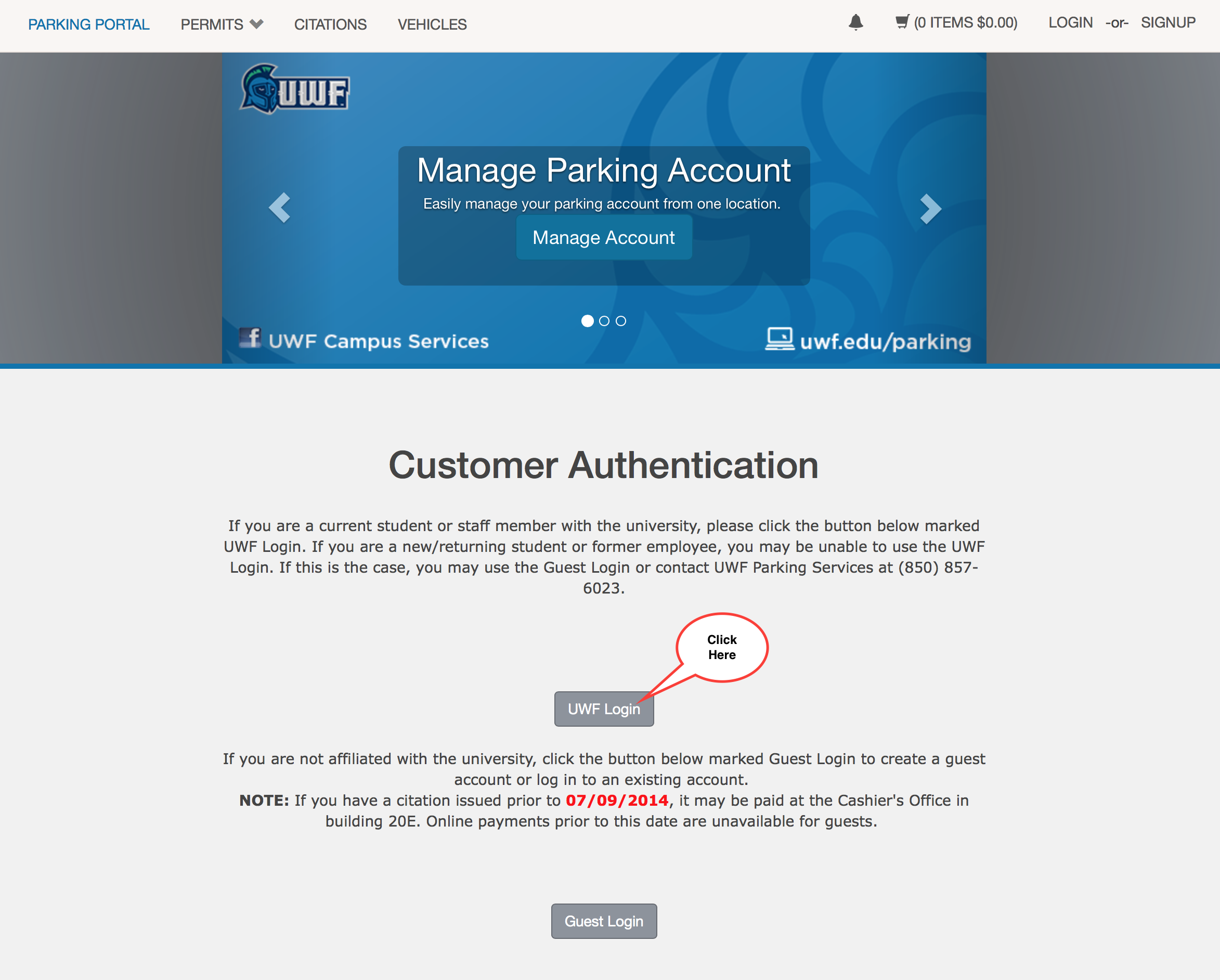 Step 2
Click on Get Permits.
This is correct even though you WILL NOT be charged for the 14-day temporary permit.
Step 3
All UWF students and employees are eligible to acquire ONE free 14-day printable permit per semester. This permit is valid from the day it is printed until 14 days later.
Click on Next>>.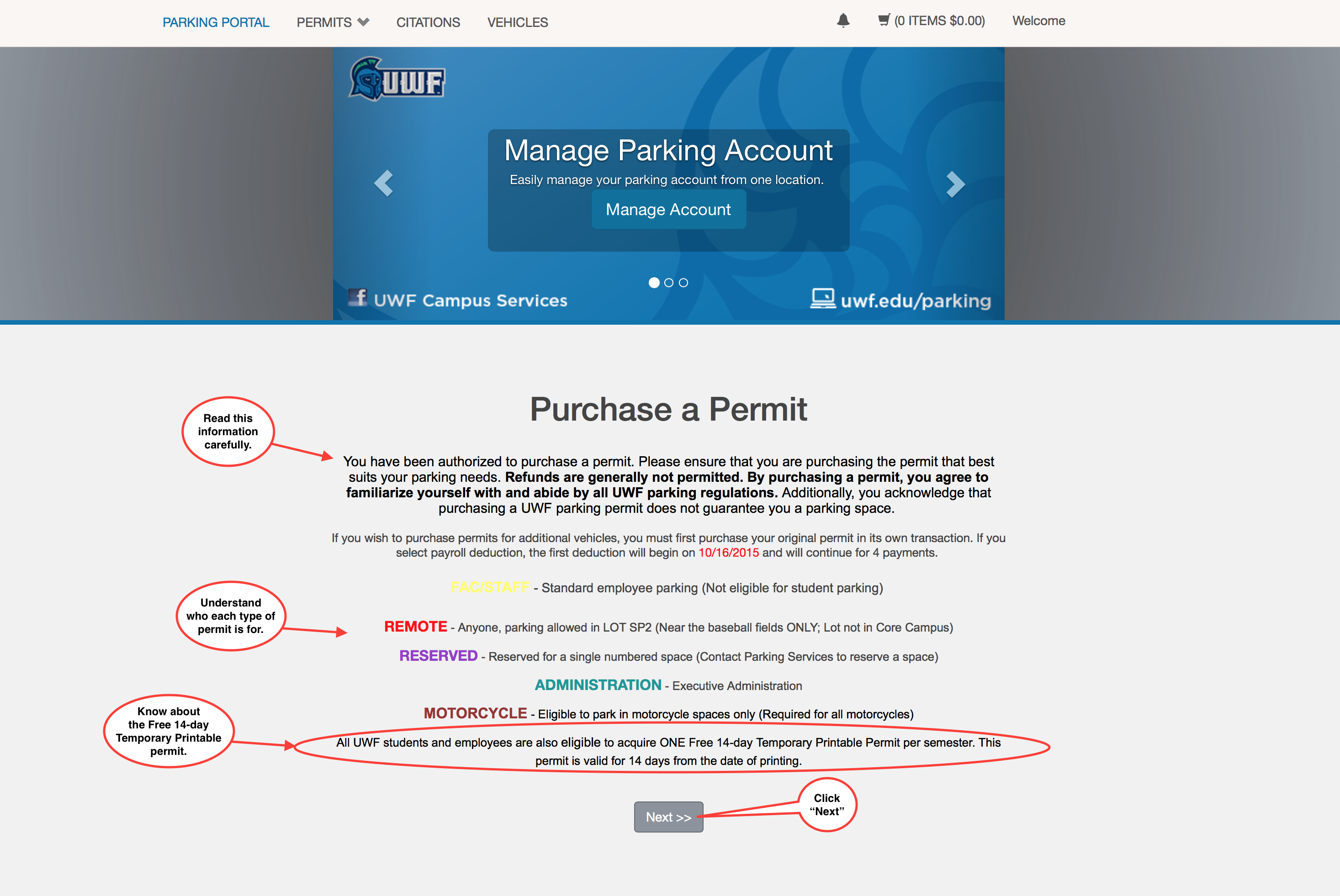 Step 4
Highlighted here is the 14-Day free temporary permit. Click on the radio button on the lefthand side. Read the 3 statements at the bottom left and acknowledge that you read them by checking the 3 boxes.
You may now click on Next>>.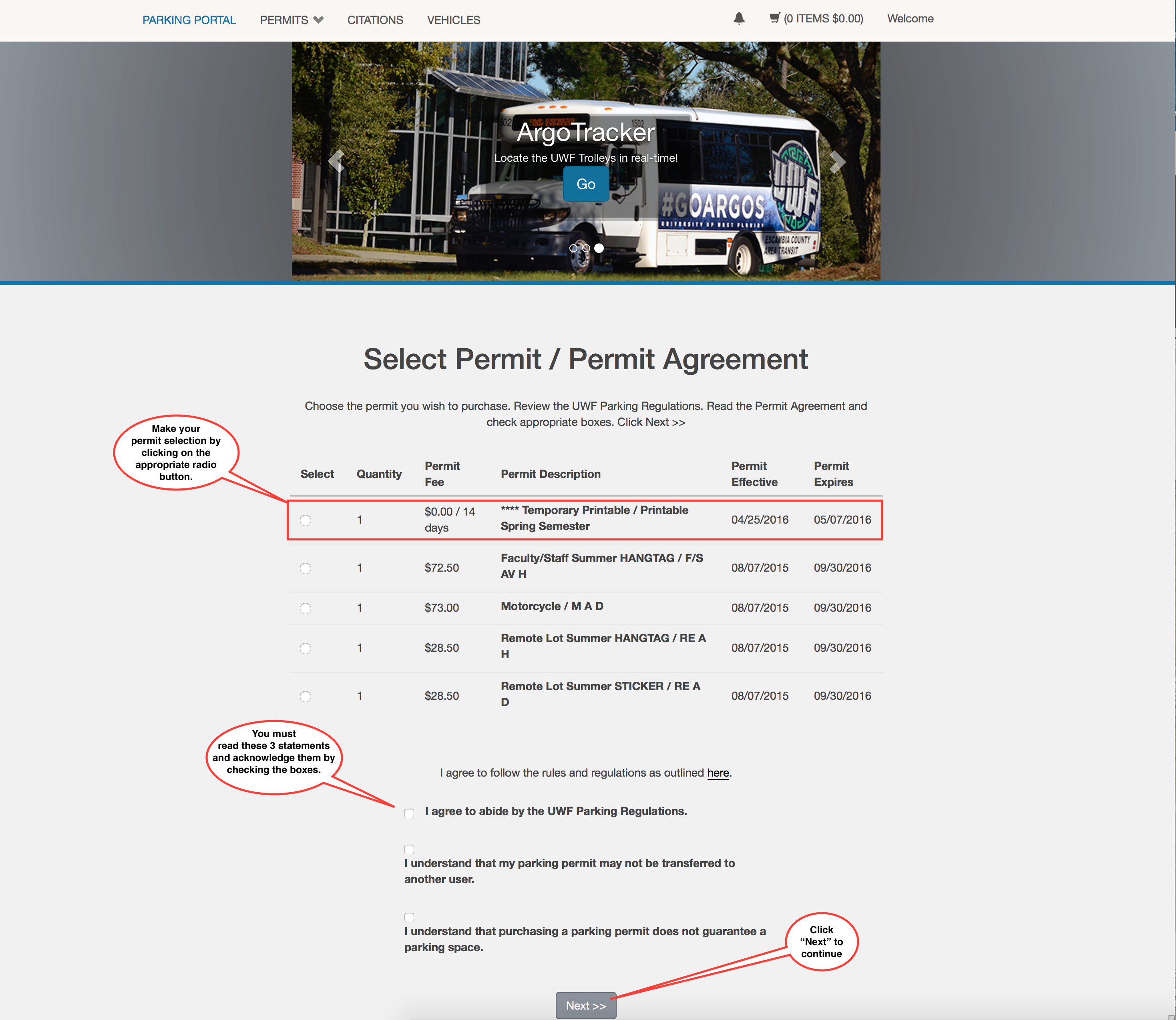 Step 5
If the proper vehicle is displayed, click Next>>.
Otherwise, you may use the Add Vehicle button to add the appropriate vehicle before clicking Next>>. Up to 3 vehicles may be selected on which the temporary permit may be used.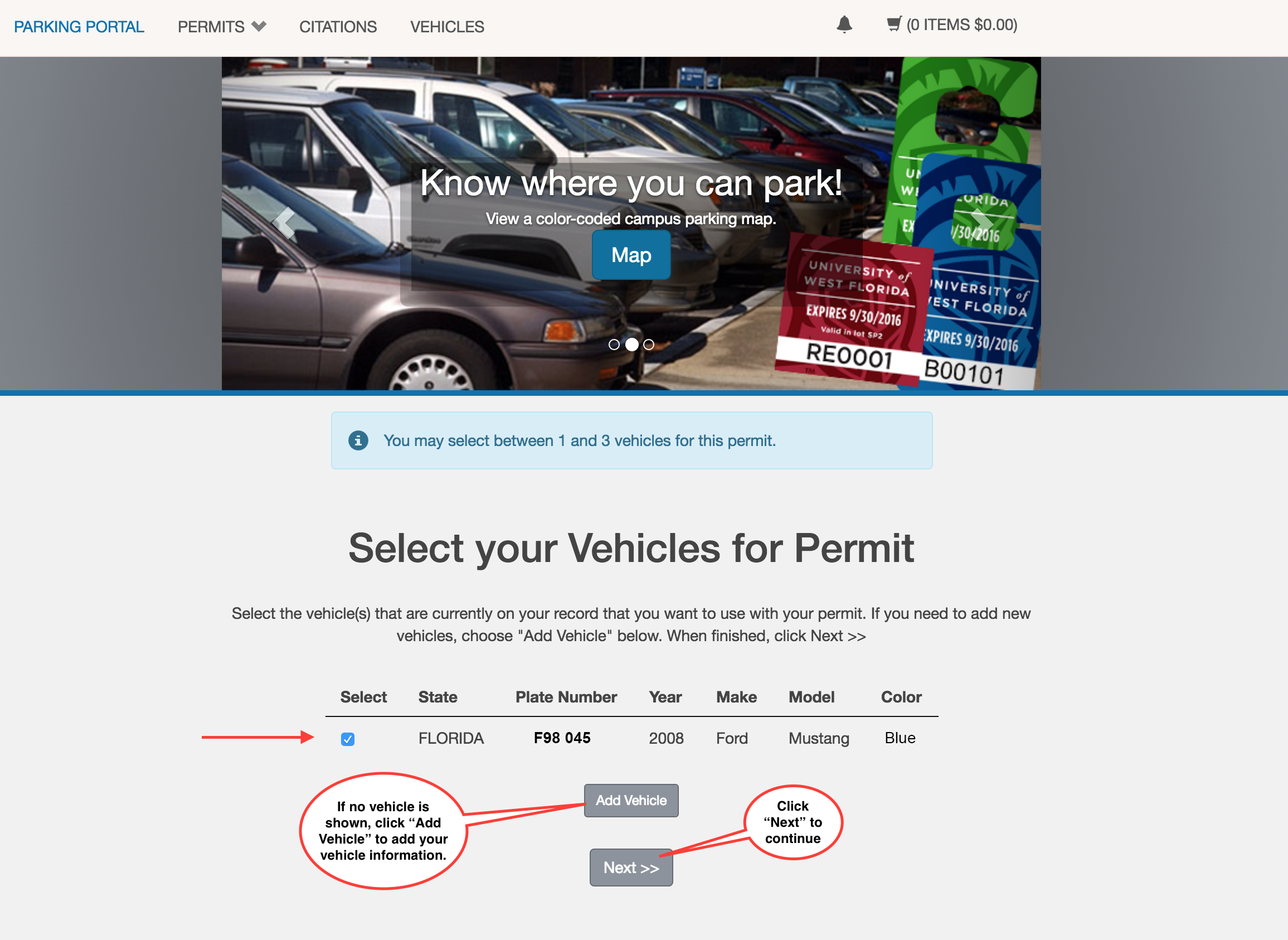 Step 6
Change the Delivery Option to "Pick Up or Temporary". 
Note: You will NOT be picking up your temporary permit. You will print your Temporary Permit during this online process.
Click Next>>.
Step 7
If everything looks correct, click "Pay Now".
Step 8
1 - Notice that there is NO CHARGE for the printable 14-day temporary permit.
2 - VERY IMPORTANT! Click on Print Permit now to print your temporary permit.
     Note: This is 1 of 2 opportunities you will have to print your temporary permit. The link will also be available on your emailed receipt.
3 - Click on the Print Receipt button to print your receipt. You will also receive a receipt by email.
4 - Click on Logout.
 This is the end of the process.
FAQs
Will I receive a receipt for my free 14-day temporary permit by email?
Yes, you will receive a receipt for the free 14-day temporary permit by email. There will be a link to print your permit on the email receipt if you did not print the permit prior. Below is an example of the email receipt.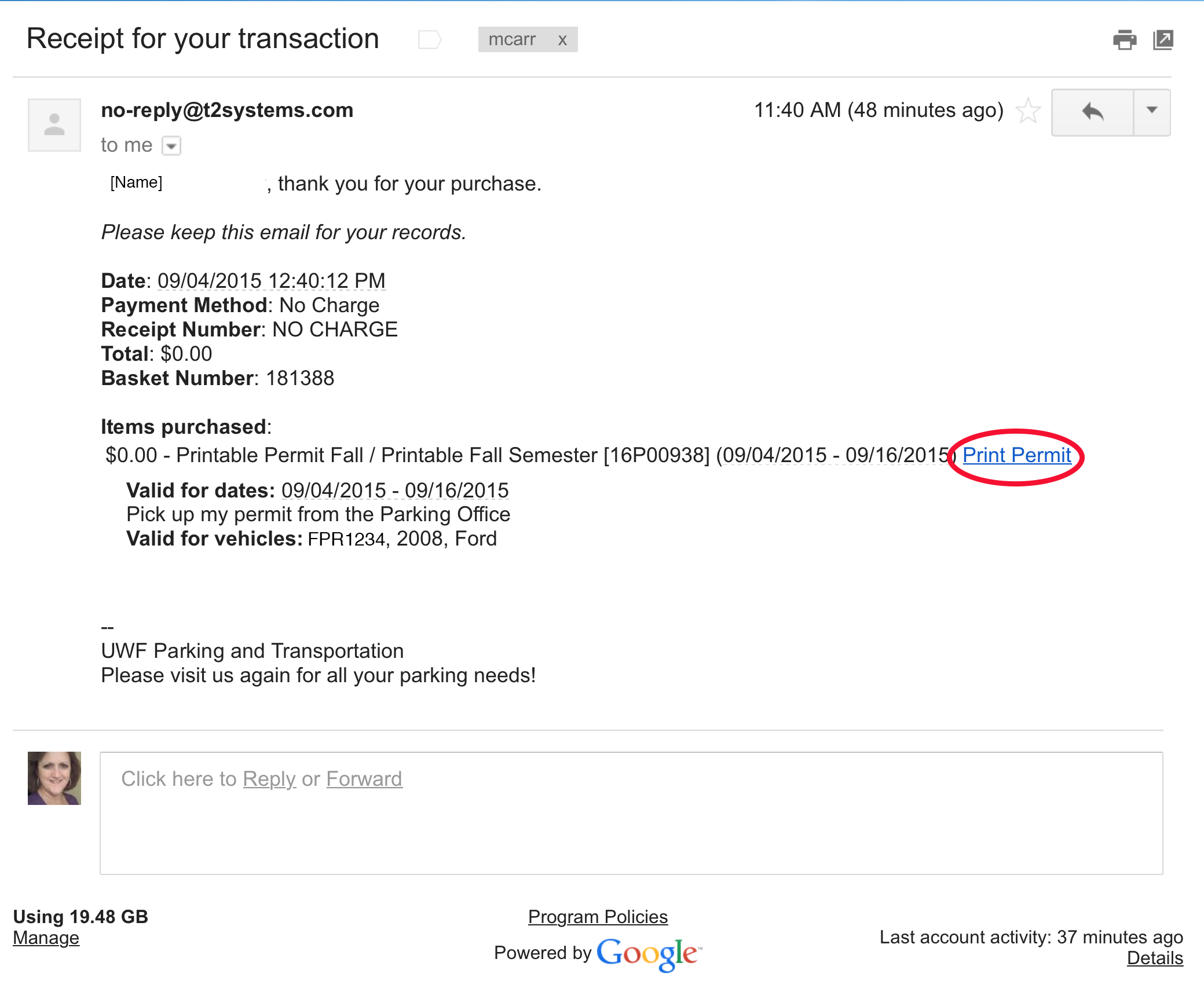 How will I know if I have already used my free, 14-day, temporary permit?
If you have already used your free temporary permit for the semester, you will see a screen similar to that below when you attempt to print another temporary permit. You are only allowed one per semester.